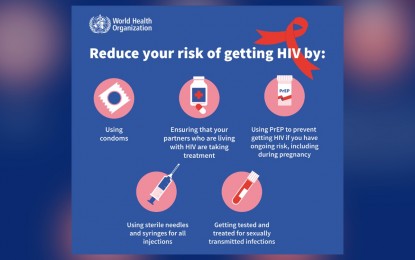 MANILA – The Quezon City government has emphasized the need to avail of its free testing, counselling and consultation for the human immunodeficiency virus (HIV) after a 56-percent increase in the number of sexually transmitted infections (STI) this year.
The QC Service Delivery Network recorded 2,538 STI cases from January to November as against the 1,625 in 2021, according to data released Friday.
Data also showed of the 28,736 who underwent voluntary HIV counseling and testing in eight clinics in the city, 738 or 3 percent tested positive for HIV.
Fifty-one percent or 373 belonged to the 25-34 age bracket; 256 (35 percent) are aged 15 to 24; 95 or 13 percent are aged 35 to 49; and 13 or 2 percent are at least 50 years old.
HIV targets the immune system and weakens defense against many infections and some types of cancer that people with healthy immune systems can easily fight off.
The most advanced stage of HIV infection is acquired immunodeficiency syndrome (AIDS), which may lead to the development of certain cancers, infections or other severe long-term illnesses.
HIV can be transmitted via the exchange of body fluids from infected people, such as blood, breast milk, semen and vaginal secretions; and by a mother to her child during pregnancy and delivery.
Ordinary and regular contacts such as kissing, hugging, shaking hands, or sharing personal objects, food or water do not cause HIV, the World Health Organization clarified.
The Department of Health (DOH) said STIs manifest physical symptoms like bumps or sores on the skin, itchy discharge, pain or burning during urination, fever or other flu-like symptoms.
However, all symptoms can be caused by other illnesses that are not sexually transmitted while some STIs are asymptomatic.
Among those who underwent testing in Quezon City, 25,347 or 67.5 percent are male while 3,389 or 32.5 percent are female; 1,523 are hetero-male or those who described themselves as slightly bisexual; 3,315 are transgender women; and 20,509 are males who have sex with fellow males.
The most common STI cases are gonorrhea at 1,057 (52.75-percent increase), followed by non-gonococcal infections (NGI) with 617 infections (139-percent increase), and 349 syphilis cases (two-percent decrease).
NGI is an infection of the urethra caused by germs other than gonorrhea and can be passed during sex (vaginal, anal or oral) or direct contact with an infected person.
Of the 738 confirmed HIV cases, 580 have started undergoing antiretroviral (ART) therapy.
The ART therapy consists of a daily pill to control or prevent the spread of the virus, combined with other medicines daily.
"A main goal of HIV treatment is to reduce a person's viral load to an undetectable level. An undetectable viral load means that the level of HIV in the blood is too low to be detected by a viral load test. People with HIV who maintain an undetectable viral load have effectively no risk of transmitting HIV to their HIV-negative partners through sex," the website hivinfo.nih.gov explained.
QC residents may get an appointment for confidential services through https://bit.ly/QCFreeHIVTest; or call (02)87032759, (02)8703-4398, 0999-2290751 and 0908-6398086.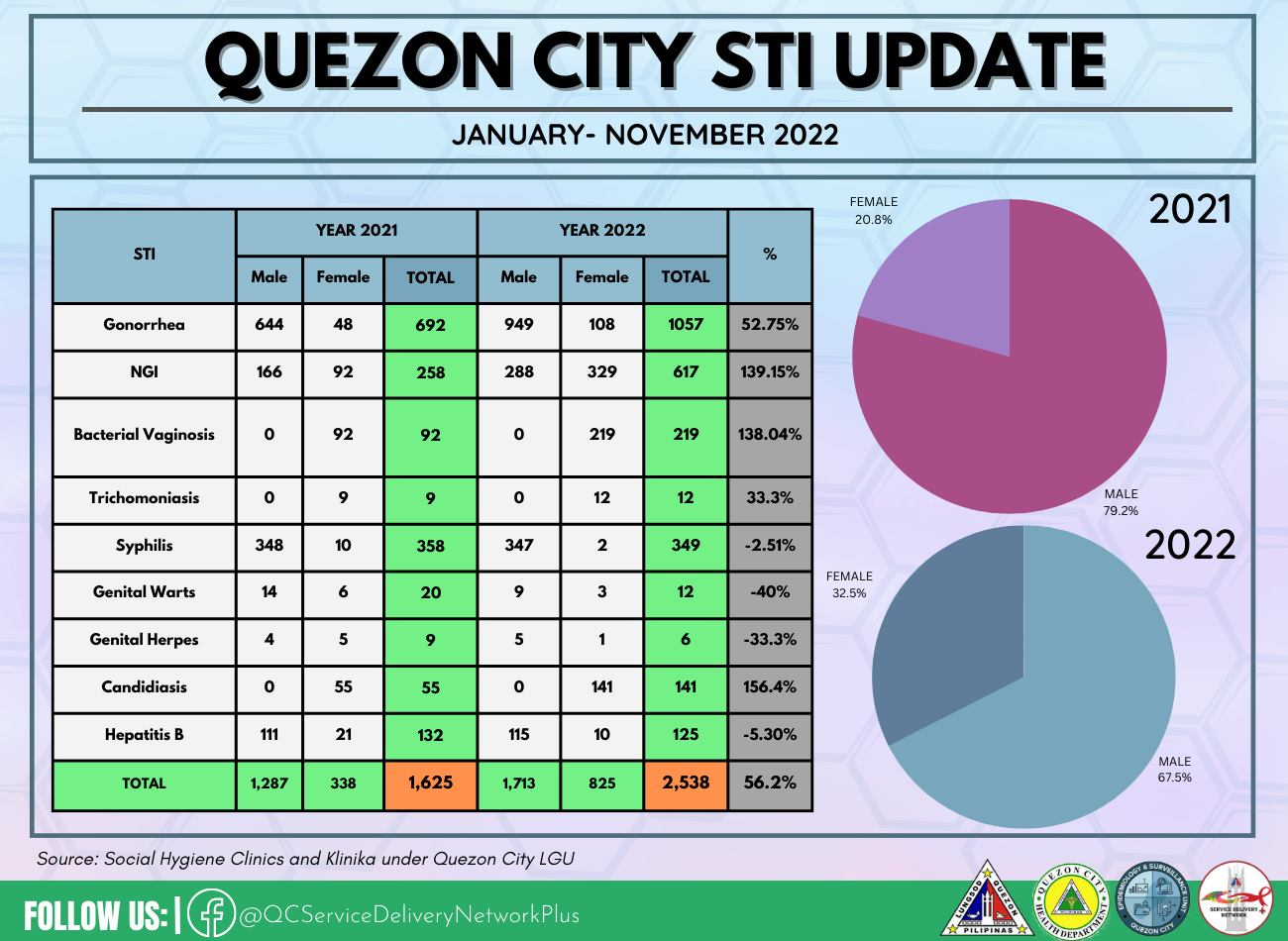 President Ferdinand R. Marcos Jr. previously directed the DOH to refocus on general public health concerns like tuberculosis infections, HIV and flu, aside from Covid-19.
Undersecretary Maria Rosario Vergeire, DOH officer-in-charge, said in an earlier interview that HIV cases rose during the pandemic.
"People were not able to go for screening, were not able to get their medicines because of the lockdown, so what we did during the time of pandemic, we were already sending per individual or per patient 'yung kanilang mga gamot through a courier para lang makainom sila ng gamot (the medicines they need through courier just so they can take them)," Vergeire said.
The DOH is also working with Congress and the judiciary to fight stigma and discrimination being experienced by HIV patients. (PNA)