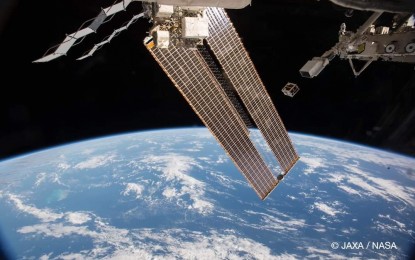 MANILA – The Philippine Space Agency (PhilSA) continues its goal of expanding the domestic space ecosystem. Aside from implementing various programs and programs in 2022, the PhilSA has also bared some of its plans for 2023.

"PhilSA faced outwards in 2022 with the objective of multiplying the value of our current space capabilities by spreading them across the country. Under the umbrella of our 'Inclusive SSTA (space science and technology applications) Knowhow Utilization, Exchange and Localization Activities' or ISKUELA thrust, we made a conscious, consolidated and cohesive effort to take available SSTA know-how, tools, and resources and extend them to different local groups," Director Joel Marciano Jr. told the Philippine News Agency on Friday.

He said one component of ISKUELA is PINAS or the PhilSA Integrated Network for Space-Enabled Actions towards Sustainability. This, he said, aims to enable sustainable access and use of space data by empowering various groups in the country to mobilize data according to their localized or specialized needs.
PhilSA has signed an agreement with the National Coast Watch Center (NCWC) to establish a formal partnership on information exchange and capacity-building on the use of SSTA in maritime response, maritime security and maritime domain awareness. Through the partnership, PhilSA conducted a series of artificial intelligence (AI) training for personnel of the Philippine National Police, the Philippine Coast Guard, and the NCWC to provide them with a deeper understanding of how AI can be applied to public safety and security.
On space industry capacity-building, Marciano said they saw encouraging progress and uptake of the "Integrated Development of a Unified Standard 3U Satellite" or INDUS3US project -- another highlight of ISKUELA.
INDUS3US engages local semiconductor, electronics, mechanical and materials manufacturing companies that PhilSA considers as "space-adjacent." Ten local companies participated in the INDUS3US.
"PhilSA engineers conducted lectures, hands-on activities and worked closely with local industry counterparts on a 3U-class demonstration nanosatellite platform intended to be engineered and manufactured locally. The larger objective is to assess, complement and enhance current capabilities in local industry to participate in the growing upstream space sector," Marciano said.

This year, the PhilSA, DOST-ASTI, and the Bangko Sentral ng Pilipinas (BSP) have taken the first steps toward financial inclusivity through satellite internet. Their technical teams initiated the test deployment of the satellite internet service provided by iOne Resource Inc. in two rural banks in Batangas -- the Progressive Bank of Malvar and the Rural Bank of Cuenca.
These banks are in Geographically Isolated and Disadvantaged Areas (GIDAs), where the installation of additional terrestrial networks to boost connectivity may not be feasible. According to PhilSA, the provision of technical support to BSP is in line with the agency's mandate to enable other government agencies, as well as the private sector, to perform their duties with the use of SSTA and space data.
In terms of sustaining the momentum of nanosatellite development, PhilSA reported that eight students and researchers have been accepted to the Advancing Core Competencies and Expertise in Space Studies (ACCESS) Nanosat Project that PhilSA launched in September.
ACCESS Nanosat aims to sustain the country's nanosatellite research and development and train the next generation of space engineers through broader access to space education and opportunities. The ACCESS Nanosat project team has completed the mission design phase that involved defining the mission objectives and top-level system requirements of the 2U CubeSat set to be developed under the initiative.
To further boost the technical know-how of practitioners, PhilSA has launched the Space Information, Know-How, and Applications Acceleration through Promotion and Training (SIKAP+), a project designed to expand and strengthen space science research and cooperation in Asia through know-how transfer and sharing of best practices among operators of satellite ground receiving stations and amateur radio satellites.
Meanwhile, PhilSA said it will continue to propel the nation towards economic resilience and human capital development.
In 2023, PhilSA will refuel the launch of the TALA hybrid rocket. Developed by local space technology researchers, students and their mentors from St. Cecilia's College-Cebu in 2018, the TALA rocket, PhilSA said, is the first high-power hybrid rocket developed in the Philippines.
It was made from 3D-printed advanced composite materials. The rocket, measuring 10 feet and weighing 15 kilograms, has flight sensors, a GPS, a dual parachute deployment, and a payload system to bring a Can Satellite (CanSat) up to approximately 5 kilometers into the atmosphere.
PhilSA also said that over 20 entries are vying for the Multispectral Unit for Land Assessment or MULA mission. The "mission patch" contest was launched in October, and the judging period will end in January.
According to PhilSA, President Ferdinand R. Marcos Jr. has expressed his support for the development of MULA, eyed for launch in 2025. The project is the biggest Earth observation satellite being built by the Philippines.
MULA satellite weighs 130 kilograms and carries a TrueColour camera capable of capturing around 73,000 square kilometers in 24 hours. Data from MULA are envisioned to contribute to the country's food security, disaster resilience, environment conservation and national security. (PNA)