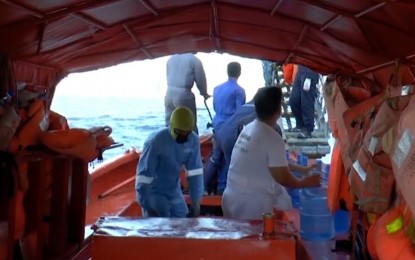 MANILA – The Danish government fully supports the Philippines' efforts to comply with the European Union's (EU) standards for seafarers, the Danish Embassy in Manila said Friday.
Danish Ambassador to the Philippines Franz-Michael Mellbin said Denmark values the role of Filipinos in the global maritime industry, adding that Danish shipping firms are also major employers of Filipino seafarers.
"Denmark is very, very happy with Filipino maritime professionals, and it will be a very great loss to the industry and the Philippines if that is not an option anymore,'' said the embassy, quoting Mellbin from a recent Manila Times interview.
The European Union had previously called out the Philippines and urged to make necessary reforms after finding "deficiencies" in its seafarers' education, training and certification system.
On the sidelines of the Association of Southeast Asian Nations-EU Commemorative Summit last week, the Marcos administration vowed to "strictly comply" with the standards set by the European Maritime Safety Agency (EMSA) in three months.
President Ferdinand R. Marcos Jr. ordered the creation of an advisory board to address inconsistencies found by the EU.
The directive was issued at a meeting with International Maritime Employers' Council (IMEC) chief executive officer Francisco Gargiulo and several business executives and leaders of European shipping companies and shipowners associations in Brussels on Dec 13.
Meanwhile, Mellbin welcomed the president's remarks during the summit, where he looked forward to a "closer maritime cooperation" between the EU and the ASEAN while calling for a sea of peace and prosperity in the Indo-Pacific region.
Earlier last month, the Danish Maritime Authority paid courtesy visits to Philippine maritime authorities to explore ways to strengthen maritime cooperation, including the protection of seafarers' rights. (PNA)