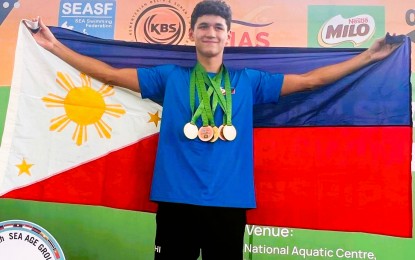 MANILA – Alexander Georg Eichler's triple-gold performance at the 44th Southeast Asian Age (SEA) Group Swimming Championships has validated his inclusion to the Philippine junior team.
The 15-year-old Eichler, born to a Filipino mother and a German father, ruled the 50-meter, 100-meter and 200-meter butterfly in the Boys' 14-15 Group 2 category at the National Aquatic Center in Kuala Lumpur, Malaysia on Dec. 17 to 19.
He registered 26.09 seconds in the 50-meter butterfly to conquer Jeremy Elyon Ganesha of Indonesia (26.16) and Nusit Suwanhiranporn of Thailand (26.38).
In the 100-meter butterfly, Eichler clocked 56.62 seconds to beat Ibrahim Faqih of Indonesia (57.53) and Muhammad Dhuha Zulfikry of Malaysia (57.99). He also erased the tournament record of 56.9 seconds set by Vietnamese Ngo Dinh Chuyen in 2016.
Eichler's 200-meter butterfly win came after he clocked 2:07.04 to prevail over Ngoc Minh Hoang Tan of Vietnam (2:09.37) and Wongsakorn Patsamarn (2:09.37).
"I was really happy to be able to represent the Philippines in my races. Especially in the relays, because I could share the success with my teammates," Eichler said in an interview on Saturday.
The 5-foot-9 Eichler was likewise part of the silver-medal effort in the 18-and-under 4x100-meter relay team with Jamesray Misael Ajido, Ivo Nikolai Enot and Jalil Sephraim Taguinod.
He also had two bronze medals coming from the boys 4x100-meter freestyle relay with Ajido, Santos and Juan Marco Alfonso Daos, and the mixed 4x100-meter freestyle relay with Enot, Amina Isabelle Bungubung and Filipino-British Heather White.
Eichler is an incoming Grade 10 student at the Elly-Heuss-Schule Wiesbaden, which has a Sports Talent Promotion Program in swimming.
He is the younger of two sons of Filipino Caroline Paredes and Christoph Eichler, an Information Technology consultant.
The older Adrian Phillip, 19, is also a member of the Philippine team and had seen action at the 2022 Vietnam SEA Games, 2019 World Junior Swimming Championships in Budapest, Hungary, and the SEA Age Group Swimming Championships in Manila (2018) and Cambodia (2019).
The brothers train at the Swimming Club Wiesbaden under head coach Oliver Grossmann, a former long-distance swimmer.
The 2022 SEA Age Group Championships was Eichler's second international tournament after the 8th FINA World Junior Championships in Lima, Peru in September.
Early this year, he won the 200m gold medal and the 100m silver medal at the German Junior Nationals.
In 2021, he pocketed two gold medals and one bronze and held the 200m record in the 14 years old category.
Other winners
Meanwhile, Ajido also won two golds while White earned one in Malaysia.
Ajido topped the Boys' 13-and-under 100-meter backstroke Group 1 in 1:02.42 to beat Muhammad Wibowo of Indonesia (1:02.68) and Pipatchakant Srangsiri of Thailand (1:02.90).
He also dominated the 50-meter butterfly in 26.83 seconds, leaving Indonesians I Nyoma Yajamana Swaha (27.02) and Aulia Adzil Naja Maulana (27.14) settling for the silver and bronze medals, respectively.
White, on the other hand, won the Girls' 14-15 50-meter freestyle Group 2 in 26.83 seconds over Ploy Leelayana of Thailand (27.25) and Ni Putu Pande Primasri of Indonesia (27.34).
Overall, Thailand hauled 58 gold, 43 silver and 28 bronze medals in the tournament participated in by 432 swimmers from eight countries.
Indonesia tallied 17-25-28 gold-silver-bronze, followed by Malaysia's 12-12-16, Vietnam's 8-6-8, the Philippines' 6-7-11, Singapore's 4-10-15, and Brunei's 0-2-0. (PNA)