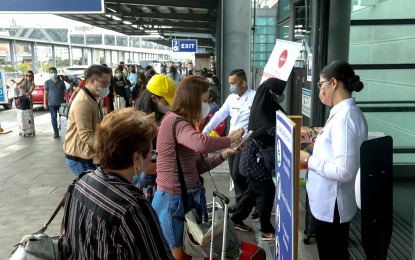 MANILA -- Over 29,000 travelers, including Filipino passengers, arrived in the country on Christmas Day to spend the holidays with their families, the Bureau of Immigration (BI) said on Monday.
Dana Krizia Sandoval said the figure was much higher than in previous years when the coronavirus disease 2019 (Covid-19) pandemic was at its peak.
"The arrivals on December 25, were at 29,968 individuals…For departures, a total of 27,934 people on Christmas Day," she said at the Laging Handa briefing.
"And this is significantly higher than the last two years. Because if you remember, the last two years the holiday seasons were a bit sad because almost no one traveled due to the travel restrictions imposed worldwide due to the pandemic. Now, we are seeing again, many countries are opening up again, including us here in the Philippines. So we can see enthusiasm and joy again in our airports," she added.
Sandoval said they expect the number to increase for the remaining days of 2022.
"Well, our projection is all the way until New Year, our arrivals are quite high because our countrymen and their families are returning home to celebrate Christmas and New Year," she said.
She noted that the number of departures are expected to rise in the early part of 2023.
"Usually, with the New Year, departures increase because usually, our compatriots who live abroad and overseas Filipino workers (OFWs) who are deployed, are returning to their countries of origin," she said.
Earlier, the Bureau reported that the arrivals on Christmas Eve were at around 32,000. Most of the arrivals were at the Ninoy Aquino International Airport (NAIA) terminals.
The number of departures on that day was 22,248. (PNA)