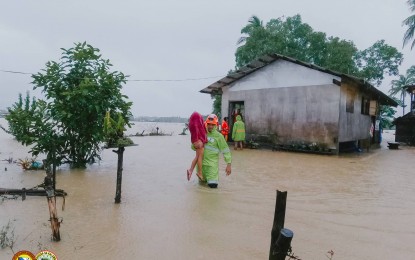 MANILA – At least 13 people have been reported dead due to torrential rains and floods caused by the shear line in various parts of the country, the National Disaster Risk Reduction and Management Council (NDRRMC) reported on Tuesday.
In its update, the agency said two deaths from Eastern Visayas have already been confirmed while 11 are undergoing validation -- seven from Northern Mindanao, three from Bicol and one from the Zamboanga Peninsula.
Meanwhile, six injured and 23 missing persons were also reported.
Of the number of injured, one from the Zamboanga Peninsula was already confirmed while five from Northern Mindanao are undergoing validation.
The number of confirmed missing is 12 -- all from Eastern Visayas while the remaining 11 are undergoing validation -- eight from Bicol and three from Northern Mindanao.
The NDRRMC said 44,282 families or 166,357 individuals residing in Mimaropa, Bicol, Eastern Visayas, Zamboanga Peninsula, Northern Mindanao and the Bangsamoro Autonomous Region in Muslim Mindanao (BARMM) were affected.
Of this figure, 10,536 families or 45,337 persons are being served in 87 evacuation centers with the remainder being aided by relatives or friends.
Around 534 houses were damaged -- 369 of which were classified as "partially damaged" and 165 as "totally damaged".
Red Cross deploys rescue team
Meanwhile, Philippine Red Cross (PRC) water search-and-rescue (WASAR) team saved 176 individuals, including children and infants, as flash floods hit several barangays in Gingoog City, Misamis Oriental on Christmas Day.
"We immediately deployed our five-man WASAR team and other PRC assets and personnel. PRC will deploy its hot meals on wheels to the evacuation centers to provide hot, ready-to-eat food to the rescued families," PRC chairman Richard Gordon said in a statement.
The PRC is also serving hot meals in the evacuation center at the Arthuro S. Lugod Gymnasium. Several roads were also rendered impassable, these are the Gingoog City National Road due to knee-deep flood and the highway in Barangay Lawit Balantian due to a pocket landslide.
"Our volunteers and staff on the ground are making sure that the PRC will always be an available lifeline for those in need, even during the holiday season," PRC secretary general Gwen Pang said.
Aside from the flood in Misamis Oriental, the PRC Iligan City Chapter is also on duty due to reports of rising water levels in many barangays.
There are no reported evacuees at the moment.
Prayers, aid for victims
Meanwhile, the Archdiocese of Ozamiz has asked for prayers and assistance to victims of floods caused by heavy rains across most parts of the country.
Ozamiz Archbishop Martin Jumoad said their Social Action Center started relief operations for flood victims on Monday.
"Let us continue to pray that more help will come to them. Let us also offer prayers that weather conditions improve," Jumoad said in a report posted on the Catholic Bishops' Conference of the Philippines news website.
The archbishop has offered prayers for the flood victims during the Christmas Day Mass at the Archdiocesan Shrine of Birhen sa Cotta and asked for relief goods for affected families. (with Ferdinand Patinio/PNA)