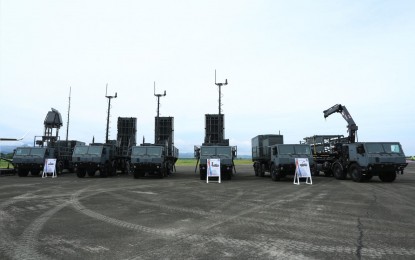 MANILA – The Armed Forces of the Philippines (AFP) will end 2022 with a lot more firepower than it began the year as it is now capable of engaging and shooting down hostile aircraft and drones that may intrude over the country's airspace.
This was after the Philippine Air Force (PAF) formally took possession of the first two batteries of its ground-based air defense system (GBADS) at the Basa Air Base in Floridablanca, Pampanga last Nov. 8, which was personally witnessed by President and Commander-in-Chief Ferdinand R. Marcos Jr.
GBADS is tasked to protect critical defense installations and assets of the AFP aside from the Philippines' so-called "center of gravity".
"Center of gravity" may either refer to a country's densely populated areas or key political and business infrastructures.
"The GBADS is projected not only to protect vital military installations and various ground and air assets but is also intended, when necessary, to secure our nation's centers of gravity, critical government utilities and other essential facilities and assets of national importance," PAF spokesperson Col. Ma. Consuelo Castillo said when asked about GBADS significance to the country's defense posture.
She also said having the GBADS in the PAF inventory gives the service a "layered defense" against intruding and hostile aircraft.
Castillo also said the GBADS batteries that are in service are the first modern surface-to-air missile defense system of the AFP.
The GBADS will also be the primary weapon of the PAF's 960th Air and Missile Defense Group.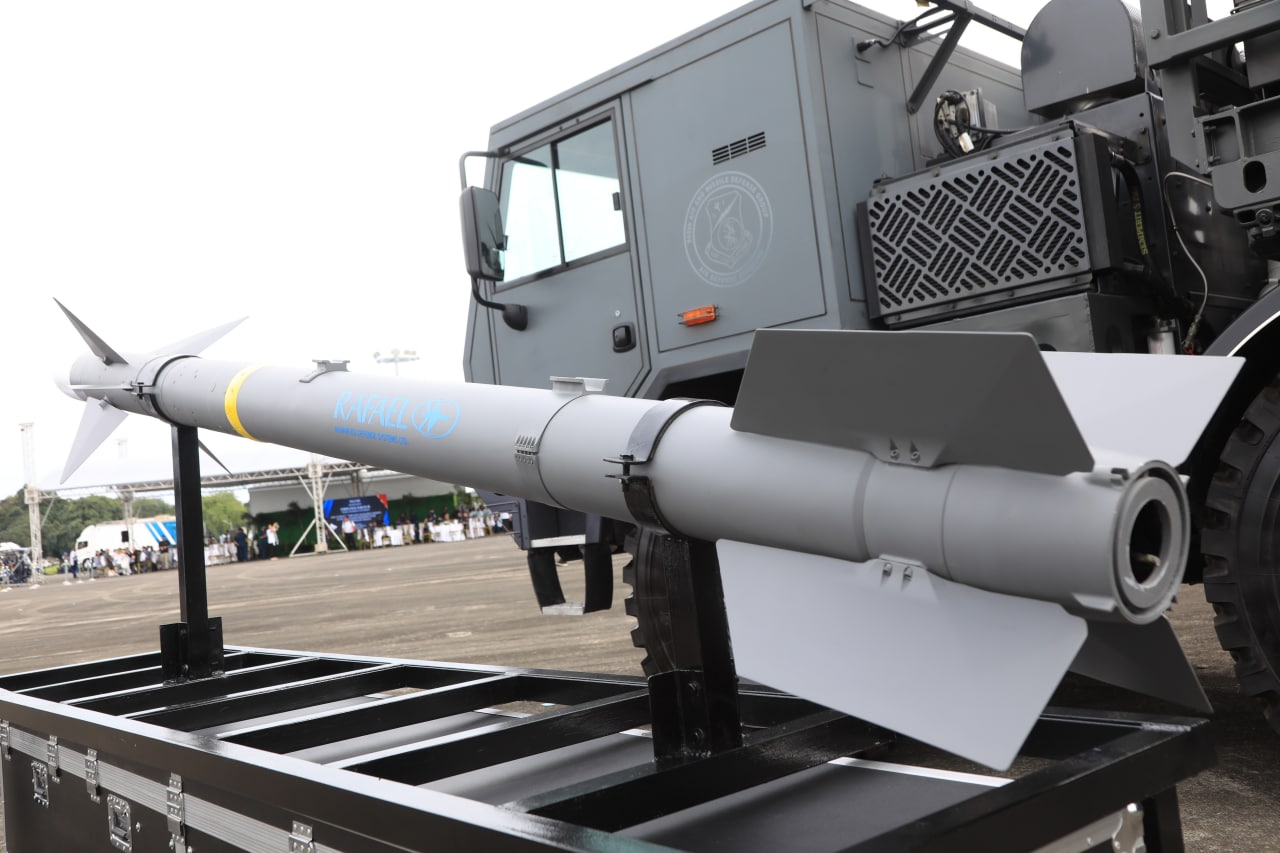 "The newly acquired GBADS or specifically called SPYDER Philippines Air Defense System (SPADS) is a mobile air and missile defense system designed to protect critical installations, land-based fixed assets, mobile platforms, and friendly forces from aerial threats, such as combat aircraft, attack helicopters, unmanned air vehicles, incoming missiles, guided munition, and rockets. In certain cases, it may also be used to neutralize surveillance threats," Castillo said.
Also known as SPADS, it is classified as a "medium-range air defense missile system" and is capable of low-level, quick-reaction interception.
SPYDER is short for Surface-to-Air Python and Derby mobile air-defense missiles.
The GBADS is also the PAF's "secondary air defense cover after manned fighter aircraft" with the role currently being undertaken by the Air Force's FA-50PH fleet.
The Philippines is one of two countries in the Southeast Asian region operating this advanced missile system, aside from Singapore.
Castillo also said the GBADS is an acquisition project under Horizon 2 of the AFP Modernization Program.
The first two GBADS batteries were delivered on Sept. 24 and 29, respectively, while the third battery is expected to be delivered on May 24, 2024.
A typical PAF GBADS battery consists of a command-and-control unit, three main firing units equipped with four missile launchers, along with two support vehicles for field service and munition resupply.
The GBADS contract is worth PHP6.8 million and includes integrated logistics support, a simulator, a missile repair facility, and air defense systems missile training for personnel.
The Department of National Defense signed the GBADS contract with the Israel Ministry of Defense and Rafael Advanced Defense System on Sept. 23, 2019.
Marcos earlier said the GBADS will boost the Air Force's capability to defend and protect the country's territories from airborne threats.
"It is for this reason, that we strengthen our country's capabilities in territorial defense, counter-terrorism, and internal security. In keeping our defense systems updated with the latest technology, we fortify our capabilities to provide humanitarian assistance to respond immediately in times of calamities and disasters. With terrorism and external security threats brought by geopolitical tensions looming around us, around the Asia Pacific region, and around the world, it is imperative that we continue to equip and empower ourselves in whatever capacity we are able," Marcos added.
Castillo also said the GBADS will complement the Air Force's Integrated Air Defense System (IADS), one of the core systems of the PAF.
"With a dependable GBADS, we can ensure that in situations when enemy aerial assets have infiltrated the national territory, a layer of defense is still available to directly protect vital assets on the ground for continuous defense operations," Castillo said.
Missile simulator facility
In anticipation of this capability, the PAF formally accepted its first-ever missile simulator, the SPAD Simulator-Training Center last April 26.
The facility is located at Basa Air Base and will allow the Air Force to train on various surface-air missile engagement techniques.
"The SPADS Simulator-Training Center is the AFP's first missile training center, which will serve as a training ground for future missile operators to prepare them for real-world challenges, as well as to increase personnel knowledge, skills, and develop the right attitude for air and missile defense," then PAF spokesperson Col. Maynard Mariano said.
The simulator training center aims to develop three different capabilities -- detection through radar, command and control, and missile firing.
It is also custom-made for the men and women of the PAF to utilize in their training on advanced air defense techniques.
PAF gets 2 more T-129 attack helicopters
Last Nov. 24, two more T-129 "Atak" attack helicopters were delivered at Clark Air Base in Pampanga for technical inspection by the Air Force.
Marcos also led the ceremonial blessing of these helicopters in Malacañang last Dec. 9.
These two T-129s will be joining the first two "Atak" helicopters, delivered last March 9, at the 15th Strike Wing.
The PAF has a six-helicopter order from Turkish Aerospace Industries worth PHP13.7 billion.
This project is under Horizon 2 of the Revised Armed Forces of the Philippines Modernization Program.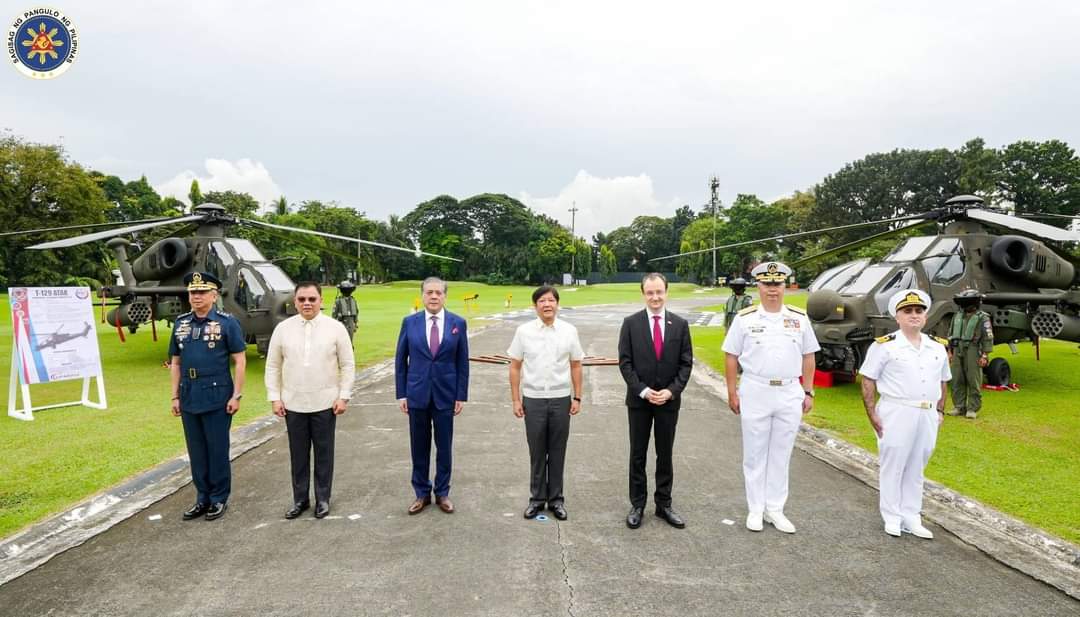 The two remaining T-129s are expected to be delivered sometime in 2024.
The contract for the acquisition of these helicopters was signed by then Defense Secretary Delfin Lorenzana in July 2020.
These aircraft will be utilized for territorial defense, aerial surveillance and reconnaissance, counter-insurgency combat operations and combat support operations.
Its roles are close air support, precision strike, deep strike, suppression of enemy Air defense, security/urban warfare, and air-to-air warfare.
The T-129 is a twin-engine, tandem seat, multi-role, all-weather attack helicopter and armed with a variety of guns, rockets, missiles, sensors and targeting systems.
It has a cruising speed of 120 knots and a range of 250 nautical miles.
Heavier, more mobile self-propelled artillery for PH Army
The Army Artillery Regiment (AAR), meanwhile, has activated a new unit, the 10th Field Artillery, which will operate the 12 newly-acquired 155mm self-propelled howitzers from Israel.
Philippine Army (PA) spokesperson Col. Xerxes Trinidad said the 10th Field Artillery was activated during the AAR's 15th founding anniversary in Fort Magsaysay, Nueva Ecija on June 22.
Earlier, the AAR announced that it had test-fired for the first time its newly-acquired Autonomous Truck Mounted Howitzer System (ATMOS) 155mm/52 caliber self-propelled artillery pieces last April 6 to 8.
Trinidad said the ATMOS 155mm howitzer system is a "shoot-and-scoot" weapon that can be rapidly deployed in rugged terrain.
"The weapon incorporates an 'inertial navigation system' (INS)-based gun-laying method and an automatic loader," he added.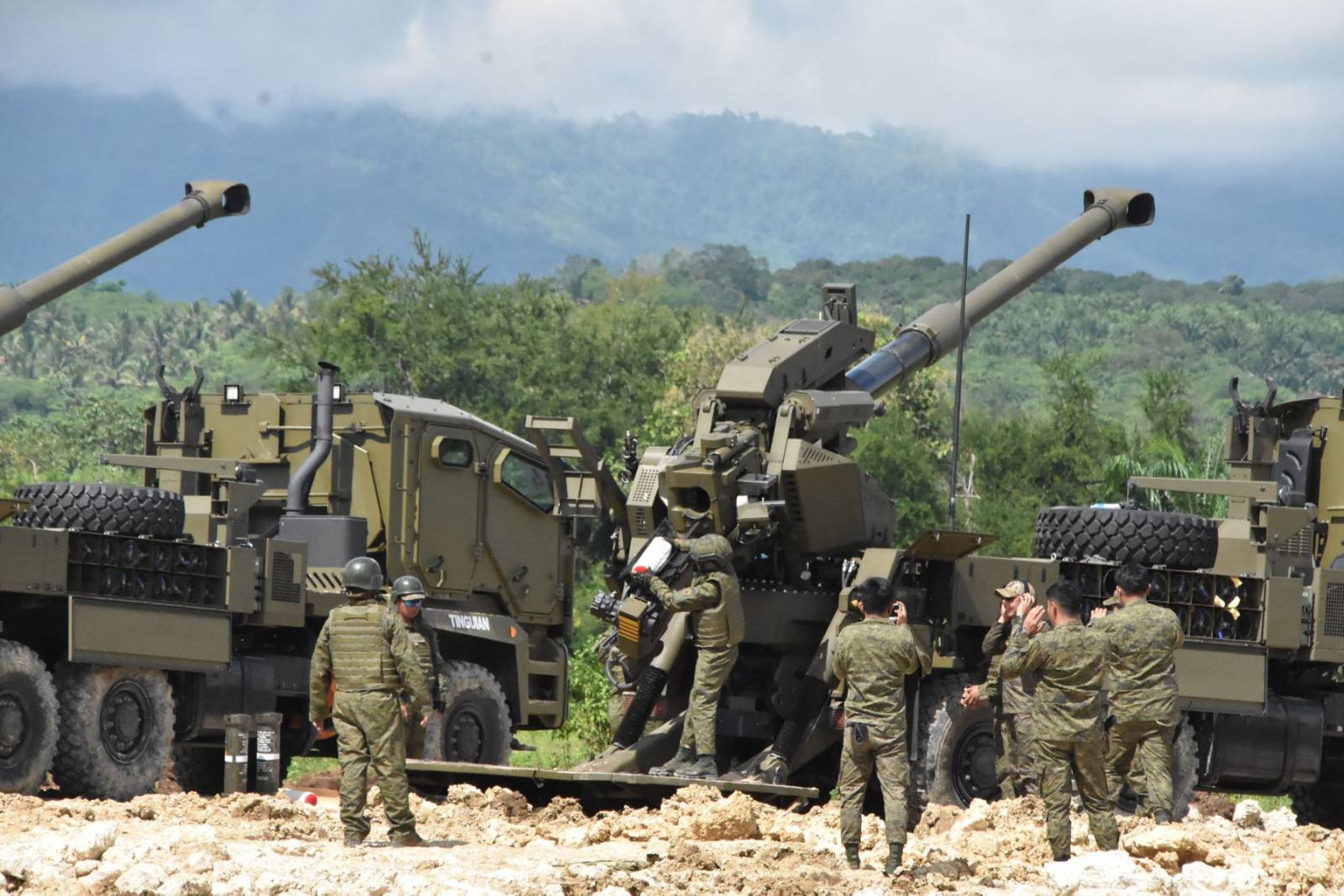 The Army received 12 ATMOS howitzer units in December 2021 from Israeli defense company Elbit Systems.
Trinidad also said the ATMOS 155mm self-propelled guns are "easily deployed even in ragged terrain and truck-mounted guns not towed."
He added that these new weapons have a maximum range of 41 kilometers depending on the type of ammunition used and have "target precision of up to 10-kilometer radius."
The self-propelled artillery pieces worth PHP2.4 billion are procured under the Horizon 2 of the AFP Modernization Program.
Trinidad earlier said the weapons would augment the existing 155mm towed howitzers being operated by the Army Artillery Regiment.
"It is in addition to the existing fire support artillery guns, the 155mm-towed howitzers," he added.
Two batteries or eight units of ATMOS 155mm self-propelled guns were ordered deployed to conflict areas in Mindanao in late September of this year.
The 10th Field Artillery Battalion is the mother or primary unit tasked to operate and maintain the 12 newly-acquired ATMOS self-propelled guns which are divided into three batteries of four howitzers each.
PH Navy gets first 2 out of 9 missile boats
Meanwhile, the Philippine Navy (PN) on Sept. 6 formally christened the first two fast attack interceptor craft missiles (FAIC-Ms) out of the batch of nine ordered from Israel Shipyards Limited for PHP10 billion.
The ships were named the BRP Nestor Acero (PG-901) and BRP Lolinato To-Ong (PG-902). Both men are members of the Philippine Marine Corps and Medal of Valor recipients -- the late Private First Class Nestor Acero and the late 1st Lt. Lolinato To-Ong.
Navy spokesperson Commander Benjo Negranza said the FAIC-Ms will boost the PN's capability to protect the country's littoral zones.
The littoral or nearshore is the part of a sea, lake, or river that is close to the shore.
He also said this acquisition aims to strengthen the country's naval capability in terms of enhancing littoral defense and maritime interdiction operations as it will complement the PN's previously acquired 12 multi-purpose attack craft (MPAC).
The two vessels were loaded aboard a cargo ship and departed Haifa, Israel in late August. These vessels were formally launched last June 26.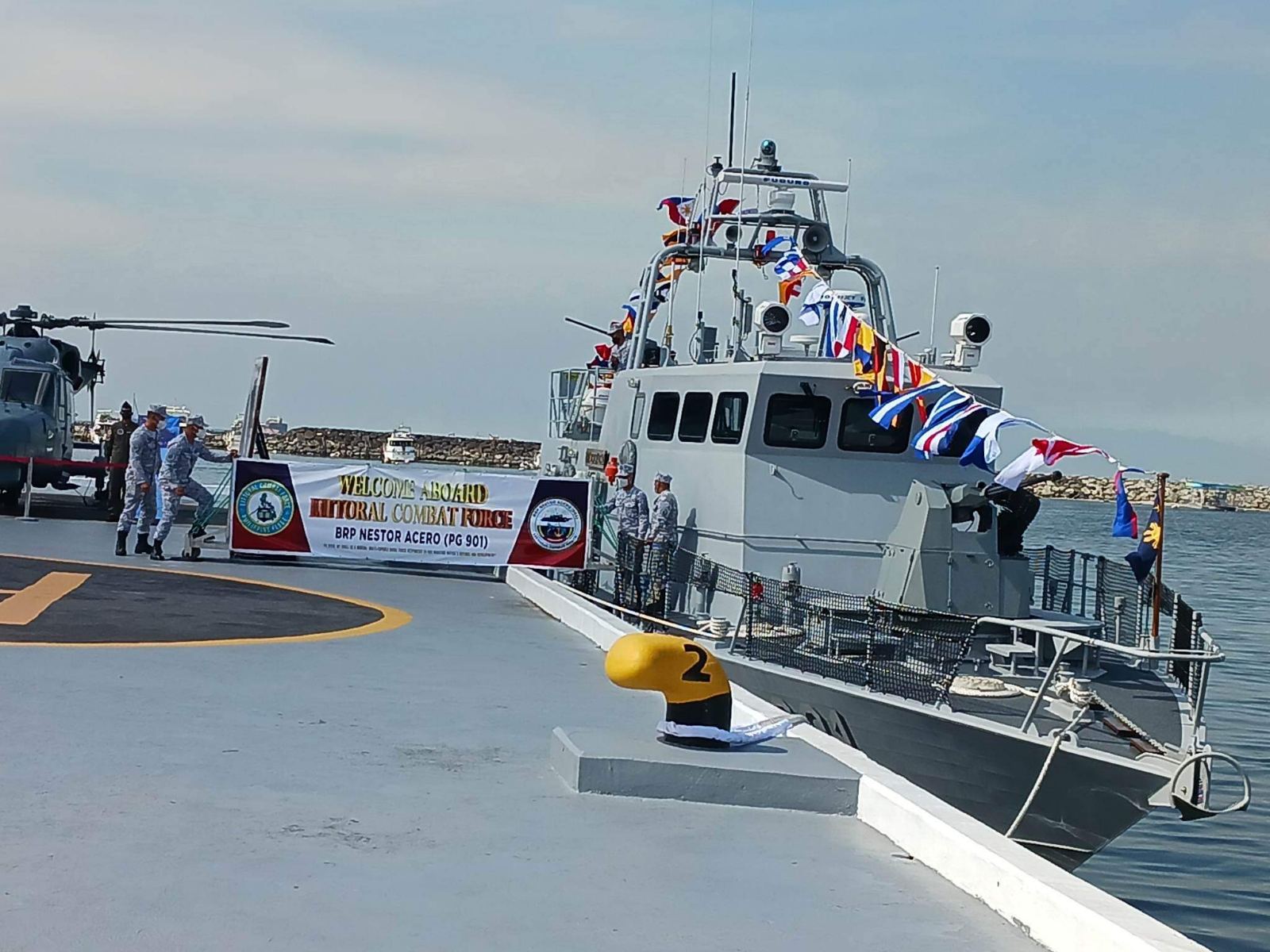 The PN on Nov. 28 formally commissioned these two FAIC-Ms into service with Executive Secretary Lucas P. Bersamin leading the commissioning rites at the Naval Station Jose Andrada, Roxas Boulevard, Manila
The two FAIC-Ms were sent off and deployed to their areas of operation shortly after the commissioning rites.
AFP chief Lt. Gen. Bartolome Vicente Bacarro and newly appointed Navy chief Rear Adm. Toribio Adaci Jr. also witnessed the event.
These ships have a displacement of 95 tons, a maximum speed of 40 knots, and a range of 1,000 nautical miles.
"This acquisition aims to strengthen the country's naval capability in terms of enhancing littoral defense and maritime interdiction operations as it will complement the previously acquired 12 MPAC (multi-purpose attack craft) of the PN," Negranza said.
These 32-meter high-speed vessels are equipped with quick intercept ability, remote stabilized weapons, and short-range missiles that are capable of delivering precision strikes against larger hostiles and high-value targets on land and sea.
Four of these FAIC-Ms will be armed with non-line-of-sight (NLOS) missiles with pinpoint accuracy and a range of 25 kilometers while the other five will be armed with Typhoon-mounted 30mm main cannons and .50 caliber heavy machine guns.
The acquisition of these FAIC-Ms is among the 2019 projects approved by former President Rodrigo Duterte under the Horizon 2 List of the AFP Modernization Program.
"This acquisition also represents a major leap in the Self-Reliant Defense Posture Program of the country as the deal involves the transfer of technology that allows the local manufacturing of three platforms at the PN shipyard in Naval Station Pascual Ledesma, Cavite," Negranza said.
The notice of award for the FAIC-M project, worth around PHP10 billion, was issued on January 5 last year.
These are expected to replace the force of patrol killer medium (PKM) or medium-sized patrol craft.
Once deliveries of the FAIC-Ms are completed, these vessels can interdict surface threats and launch non-line-of-sight missiles safely using the surrounding littoral areas as maneuver space and cover.
More Navy assets to come
Adaci also announced plans to acquire at least 15 more Israel-made Shaldag Mark V missile boats, which are the basis of its "Acero"-class patrol gunboats.
He said the additional "Acero"-class gunboats would help them to meet their requirements in "patrolling the seas of the country".
He also said the FAIC-Ms will be assigned to the Littoral Combat Force.
He said four more FAIC-Ms, the other name of the "Acero" class in the PN service, will be delivered sometime in 2023.
The last batch of three, which will be built at the PN shipyard in the Naval Station Pascual Ledesma in Cavite, is scheduled for 2024.
Adaci said Israel Shipyard Limited will help the PN rehabilitate the old shipyard and make it more modern and allow it to build these types of ships. (PNA)