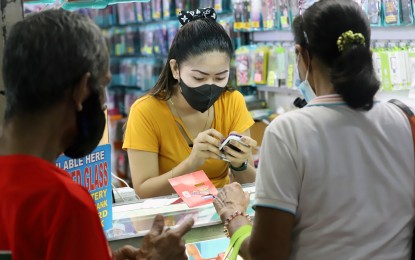 MANILA – Server issues on telecommunication firms' portals for the registration of subscriber identity module (SIM) cards marred the first day of mandatory sign-up on Tuesday.
As early as 6:30 a.m., the registration link for Globe showed a "Bad gateway" prompt and asked subscribers to "try again later".
Upon accessing again about 10:30 a.m., the link took subscribers to the FAQ (Frequently Asked Questions) page.
The Philippine News Agency (PNA) was able to access the Smart portal but getting through the link either took time to load or would not load at all.
DITO subscribers can register through the app.
"Page not found on Smart website" and "Globe links not working at the meantime" were some of the comments posted on the PNA Facebook page.
Netizen Jayson Prado Robles was among the lucky ones as he registered as early as 4 a.m. for DITO and Globe and at about 5 a.m. for Smart and was successful in all three.
Telecommunications (telco) firms assured that they are ready for the expected deluge of registrants and vowed to improve their processes.
In a radio interview over DZBB, Yoly Crisanto, Globe chief sustainability and corporate communications officer, assured that their system can handle the influx of registrants as they continuously improve it.
"We are ready for it. Robust naman 'yung system na ginagamit natin (Our system is robust)," she said.
A few hours after Globe's registration site went live, Crisanto said the portal was taken down to adjust the system for a new requirement -- uploading a selfie.
"I think meron silang gustong ayusin, may pinadagdag. Ngayon po kasi base dun sa kahapon na presscon ng ating government agencies kasama ang NTC [National Telecommunications Commission] and DICT [Department of Information and Communications Technology], nanghingi sila ng certain form of verification so ngayon kailangan tayo mag-upload ng selfie (I think they have to add some requirements. The NTC and DICT are now asking for a certain form of verification so the registrant would now have to upload a selfie)," Crisanto said.
Cathy Yang, PLDT and Smart Corporate Communications first vice president and group head, also said their systems are ready.
"All systems go na tayo sa SIM registration. It will only take three minutes to register," she said in a radio interview.
In an advisory posted on its Facebook page, Smart said due to the high volume of registrants, some subscribers may experience difficulty accessing the registration site.
"Our technical team is working on increasing capacity," the advisory read.
Benefits of the law
Despite the first-day blues, most of those randomly interviewed were hopeful the law would finally put an end to prank or dubious messages.
"Sa tingin ko mas kailangan pang maging aware ng Pilipino pagdating sa mga scam para hindi sila matumbok nung mga scammer (I think Filipinos need to be more aware when it comes to scams so they don't get victimized)," Clarence Paralisan told the PNA. "Sa tingin ko naman mayroon din namang benefits kapag nagpa-register kahit may nagiging hassle (I think there are also benefits when you register despite the hassles)."
Lorraine Yap asked telcos to simplify the registration.
"'Yung pagre-register po mahirap (The registration process is hard)," Yap said, without going into details.
Elvinz Bernardo said she is fed up with the almost non-stop anonymous promotional messages she is receiving.
"Halos araw-araw may nagtetext na puro about sa scam so nakakainis na din. Tsaka para iwas na rin sa scam kasi biruin mo 'yung pera na pinaghirapan sa pinagtrabahuhan mo, makukuha lang sa scam (Almost everyday, someone is texting me and they are obvious scammers. It's annoying. The law will help end scams because we don't want to lose our hard-earned money)," she said.
She shared that her electronic wallet was once hacked after she clicked on a link sent via text.
Lilian Abenoja is thankful for the law because "whatever happens, in cases of emergency or if you get scammed, the numbers are registered."
Guidelines
Under the implementing rules and regulations of Republic Act 11934, also known as An Act Requiring the Registration of SIM Cards, mobile phone subscribers with prepaid SIM cards must register and verify their phone numbers with their respective telcos within 180 days from Dec. 27.
After the extension period of 120 days, unregistered SIM cards will be deactivated.
For postpaid subscribers, their data submitted to the service providers will only need to be verified.
Globe users are automatically registered but may be asked to submit certain requirements or answer questions while Smart subscribers should text "YES" to 5858.
Meanwhile, local SIM cards of visiting foreign nationals shall only be valid for 30 days. It may be extended upon submission of an approved visa extension.
To register, subscribers should visit the portal of the telecom firms.
For existing DITO Subscribers, register through https://dito.ph/RegisterDITO.
For Smart prepaid, TNT and Smart Bro users, register through https://smart.com.ph/simreg.
For Globe Mobile, TM and Home Prepaid WiFi users, register through https://new.globe.com.ph/simreg.
The full name, date of birth, gender, and address of the end-user appearing in a valid government-issued identification document with photo such as passport, national ID, Government Service Insurance System e-Card, digitized Social Security System ID, driver's license, voter's ID and senior citizen's card, among others, shall be required during registration.
The new law is a first step to fend off text scammers while guaranteeing utmost respect of fundamental human rights.
Authorities said any information obtained in the SIM registration will be treated with absolute confidentiality except in compliance with any law or court order authorizing the disclosure of personal information upon finding of probable cause.
All mobile users have until April 26, 2023 to register their SIM cards -- with many SIM cards able to be registered under the same person.
President Ferdinand R. Marcos Jr. signed R.A. 11934 signed on October 10. (With reports from Marita Moaje/PNA)