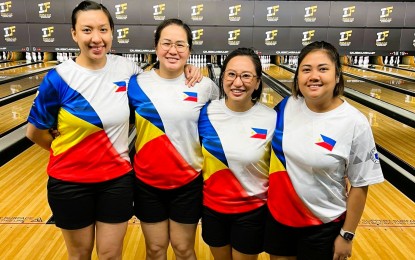 MANILA – The Philippines will send 12 athletes to the 26th Asian Tenpin Bowling Championships on Jan. 8-18, 2023 at the South China Athletic Association Bowling Centre in Hong Kong.
The team, which will leave on Jan. 7, is composed of Christian Dychangco, Ivan Dominic Malig, Patrick Neil Nuqui, Emerson Gotencio, Danielle Robert Evangelista, Jordan Matthew Dinham-Alcantara, Krizziah Lyn Macatula, Marian Lara Posadas-Wong, Rachelle Leon, Maria Lourdes Arles, Danielle Lazo and Jelena Grace Gella and coaches Jojo Canare, Biboy Rivera and Rey Reyes.
Posadas-Wong, Gotencio, Dinham-Alcantara, Macatula and Leon competed at the International Bowling Federation (IBF) World Cup in Queensland, Australia last month.
Macatula captured the 2017 Qubica AMF Bowling World Cup title and in the same year, she won the team event silver medal with Posadas-Wong, Marie Alexis Sy and Maria Liza Del Rosario at the Asian Indoor and Martial Arts Games (AIMAG) in Ashgabat, Turkmenistan.
Posadas-Wong, who debuted at the 2010 Asian Games, is keeping a positive outlook.
"We're hoping to finally win in this upcoming Asian Championships as it's been a while since we last won. We've been training continuously so we're hoping that next year will be our year," she said in an interview on Tuesday.
Posadas-Wong has pocketed three bronze medals at the SEA Games coming from the trios with Sy and Arles (Singapore 2015), team of five with Tabora, Arles, Sy, Del Rosario and Dyan Arcel Coronacion (Malaysia 2017) and team of four with Sy, Del Rosario and Bea Hernandez (Manila 2019). She also won the Hong Kong leg of the Asian Bowling Federation Tour (2019) and the Philippine International Open (2017).
Dychangco, Malig and Nuqui bagged the team of four gold medals with Merwin Tan at the Vietnam Southeast Asian Games last May.
"This is my first time competing in the Asian Championships as I went for a leave from the national team wayback in 2007. I stopped for about 16 years, and was only back into bowling last 2020," said the 33-year-old Dychangco, who earned the team bronze medal with Nuqui, Tan and Kenneth Chua at the IBF Superworld Championships in Dubai, United Arab Emirates last year. The women's team comprising Arles, Leon, Uella Marcial and Norel Nuevo also took the bronze in the same tournament.
"I am expecting the team and myself to bring home medals for our country. No promises but we are committed to play and perform our best in the upcoming Asian Championships in Hong Kong," Dychangco added.
The 24-year-old Malig has played at the 2016 Asian Championships. He grabbed two silver medals at the 2015 Asian School Tenpin Bowling Championships in Hong Kong.
"I hope we play well enough to win medals in the tournament," said the bronze medalist at the 2018 World Youth Bowling Championships in Detroit, Michigan.
The Philippines' best performance at the Asian Championships was in Hong Kong (2008), winning two gold medals in trios (Chester King, Raoul Miranda, Frederick Ong) and all-events (Chester King), one silver in all-events (Miranda) and one bronze in singles (Miranda). (PNA)