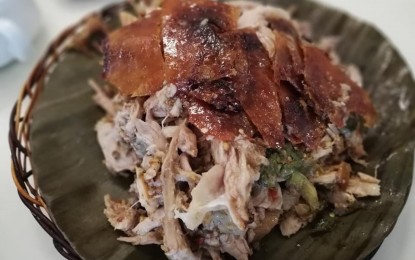 CEBU CITY – The consumer protection unit of the Department of Trade and Industry-Central Visayas (DTI-7) on Thursday advised lechon business owners to make true to their obligation to deliver the size and quality as promised or agreed upon to avoid complaints that may spoil holiday celebrations.
Joy F. Suralta, division chief of DTI-7's Consumer Protection Desk, said it is also an obligation for roasted pig traders to deliver based on the agreed time to avoid misunderstandings during the holidays which may result in rants and bad customer reviews on Facebook.
Suralta stressed the power of social media as a means to market products, especially during the holidays, while emphasizing its power to become a platform where unsatisfied customers can rant over business establishments' failure to meet their expectations.
"We advise lechon traders to deliver as promised or as agreed with their customers, especially on quality and delivery time. It is their means of gaining loyal and repeat customers. Also, customers' reviews are valuable for the sustainability of any business, word of mouth and now postings on social media are so powerful marketing tools," Suralta told the Philippine News Agency.
Some netizens posted tirades against small-scale food catering merchants, who used social media to promote their products and services, because of compromised food quality delivered to their customers.
The DTI-7 official urged customers to communicate their complaints straight to the sellers first to give them a chance to rectify their unsatisfactory delivery, though she reminded that "sellers should handle it (the complaint) well."
"To the buying public, please, when you buy something always ask for a receipt with the specs (specifications) of the product duly indicated. It is your evidence of buying the product from that specific seller. In case of defect/s, the receipt becomes a piece of evidence, with the photos of the product when you file a complaint to the concerned government agency," Suralta said.
She added that customers may also file a complaint with the local government unit (LGU) if the seller is situated in a local market or "tiangge" or in a proper agency if their grievance involves other products.
Otherwise, the DTI-7's consumer protection personnel may intervene and subject the complainant and the seller to a mediation proceeding as a first step.
She recalled the case in Carcar City in the southern province of Cebu where the LGU handled the complaints against the erring lechon sellers in their public market.
Her comment came after netizens went to social media to vent their disgust over the delivery of small-sized, deformed, discolored and unproperly cleaned roasted pigs on Christmas Eve, thus spoiling Christmas Day gatherings and parties.
One famous lechon business establishment admitted delivering poor quality roasted pig while apologizing to the customer.
In a related development, a member of the Cebu City Council on Thursday suggested an overhaul of two laws passed in 1992 and introducing legislation to afford more protections to consumers against unreasonable price increases of food products.
Councilor Pastor Alcover Jr., chair of the council's committees on agriculture, trade, and commerce, said there is now a need to review The Consumer Act of 1992 or Republic Act 7394 and the Price Act of 1992 or Republic Act 7851 to put more powers in the Department of Agriculture and the Department of Trade and Industry to monitor and regulate prices.
"We have laws that mandate our national government agencies such as the Department of Agriculture and Department of Trade and Industry to monitor the prices of prime commodities in the market and impose appropriate measures thereof," Alcover told the Philippine News Agency.
He hinted at the need to devolve the power to regulate the prices of goods at the level of the local government unit.
Alcover said he requested the two agencies in his privilege speech on Wednesday's regular session to closely monitor the movement of prices after he "received information from a reliable source that next month, the price of onion will increase to PHP650 per kilo."
He said these agencies should intensify price monitoring and impose appropriate measures to prevent traders from taking advantage of the inflation. (PNA)