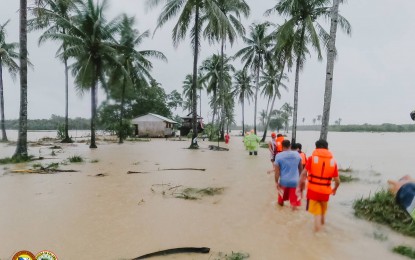 MANILA – Torrential rains in several parts of the country in the past few days have resulted in agricultural losses to more than 6,300 farmers, according to the Department of Agriculture-Disaster Risk Reduction and Management Operations Center (DA-DRRM).
Based on latest data, the DA-DRRM said the intertropical convergence zone (ITCZ), the shear line and the northeast monsoon (amihan) have so far brought losses worth PHP134 million.
"Based on assessments made by the DA Regional Field Offices (RFOs), damage and losses have been reported in Bicol Region, Zamboanga Peninsula and Caraga amounting to PHP134 million affecting 6,321 farmers," it said.
"Affected commodities include rice, corn and high-value crops. These values are subject to validation," the DA-DRRM added.
Hardest hit was recorded in rice production, with PHP117.9 million worth of loss, and Surigao del Sur being the worst hit area, followed by Camarines Sur, Albay, Surigao del Norte and Zamboanga City.
A PHP16.1 million in losses to corn production was also recorded in Surigao del Sur and Surigao del Norte.
Assorted root crops amounting to around PHP57,000 were also reported damaged in areas of Catanduanes.
The DA, meanwhile, assured it is in close coordination with local authorities to speed up monitoring and recovery efforts.
"The DA continuously coordinates with concerned NGAs, LGUs, and other DRRM-related offices for the impact of the different weather disturbances, as well as available resources for interventions and assistance," it said.
"The DA is still advising farmers to secure seed reserves, planting materials, and other farm inputs, as well as feeds and water for livestock; relocate animals, farm machinery, and equipment to higher ground; and clear drainage in irrigation and rice paddies from obstructions to prevent flooding," it added.
To date, the national and regional offices are monitoring the possible effects of the low pressure area which was last seen 100 kilometers southeast of Guiuan, Eastern Samar. (PNA)