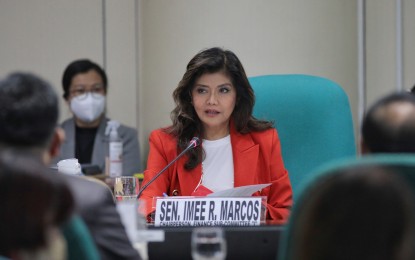 MANILA - Senator Imee Marcos on Thursday called on the Department of Agriculture (DA) to expedite the harvest and direct purchase of locally-grown onions for delivery to Metro Manila using the PHP140-million fund from the 2021 national budget which was realigned for DA's Food Mobilization Program this year.
In a statement, Marcos said this measure would increase the supply of onions that can be sold at PHP170 per kilo in Kadiwa outlets and rolling stores before the New Year, which is a better alternative than raising the suggested retail price (SRP) of the commodity.
"Raising the SRP for onions from PHP170 to PHP250 per kilo only invites more ridicule, with market prices now more than four times the present SRP," Marcos said, referring to DA's plan on raising the SRP of onions to control runaway prices that have reached PHP720 per kilo.
She also noted that onion harvest will continue until February in Ilocos Norte, Ilocos Sur, La Union, Pangasinan, Batanes, Nueva Ecija, Nueva Vizcaya, Tarlac and Oriental Mindoro.
The chairperson of the Senate Committee on Cooperatives earlier Wednesday initiated the direct purchase of around 300,000 kilos of onions from Nueva Ecija farmers' cooperatives whose grants she had sponsored from the DA's Kadiwa program.
Marcos also contacted Metro Manila mayors to add Kadiwa outlets in wet markets and to map out the routes for Kadiwa rolling stores.
"As of this morning, the mayors of Las Piñas, Mandaluyong, Quezon City, Manila, Makati, and Valenzuela have confirmed their support. I am confident that more onions can be sold at Kadiwa prices on December 30 and 31," Marcos said.
She also announced that a Kadiwa caravan will be spearheaded by DA spokesperson and Assistant Kristine Evangelista on Friday morning, Dec. 30, at Barangay 20, Parola Compound, Tondo, Manila and Barangay 272, Binondominium, Del Pan, Manila; Barangay Pobalcion and Addition Hills Welfareville in Mandaluyong City and Barangay Rizal, Makati City. (PNA)