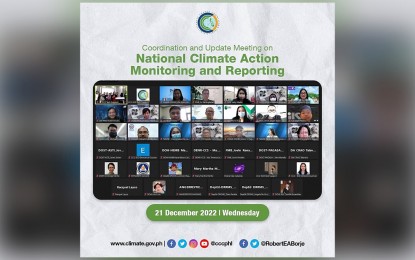 MANILA – The Climate Change Commission (CCC) has brought together national government agencies to discuss the progress of the country's national climate reports as part of efforts to pursue scientific, evidence-based and transparent climate governance.
In a news release on Thursday, the CCC said it held a "Coordination and Update Meeting on National Climate Action Monitoring and Reporting" with over 50 participants from 24 government agencies on Dec. 21.
The meeting was a hybrid setup which took place at the Hive Hotel and Convention Place in Quezon City and also via Zoom video conference.
It covered the three ongoing reports facilitated by CCC – the National Climate Change Action Plan (NCCAP) 2017-2020 Monitoring Report, the 2015 and 2020 National [GHG] Inventory Report (NIR) and the Philippine Biennial Update Report (BUR) to the United Nations Framework Convention on Climate Change (UNFCCC).
The NCCAP Monitoring 2017-2020 tracks the progress of the government in concretizing its outputs and outcomes under its seven thematic priorities–food security, water sufficiency, ecological and environmental stability, human security, climate-smart industries and services, sustainable energy and knowledge and capacity development, in line with the Climate Change Act of 2009, as amended.
The 2015 and 2020 NIR measure GHG emission levels to inform evidence-based mitigation policy and planning and is in line with the Philippine Greenhouse Gas Inventory Management and Reporting System (PGHGIMRS), issued under Executive Order No. 174 in 2014.
The Philippine BUR is one of three national reports to be submitted to the UNFCCC to assess global progress on climate commitments and mobilize support needs of the parties.
The CCC alo said the implementation of National Climate Public Expenditures was also presented to further encourage agencies to tag their climate programs.
Representatives from the Philippine Statistics Authority, Department of Energy and Department of Environment and Natural Resources also shared their methods and best practices for their respective submissions to the 2015 and 2020 National GHG Inventory Report.
CCC Deputy Executive Director Romell Antonio Cuenca, during the meeting, hoped that presenting the initiatives and efforts of the national government encapsulated in Climate Reports provides a reflection of what the CCC have done so far and how the Philippine government can scale up climate actions.
He also assured that the CCC will continue to work with various government agencies to foster the finalization of the said reports.
The CCC is the lead agency in the monitoring and evaluation of national climate change programs and it is the focal point for the Philippines' communications to the UNFCCC. (PNA)