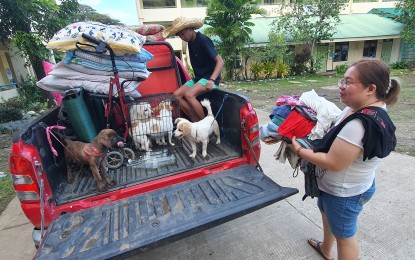 OZAMIZ CITY, Misamis Occidental – At least 2,452 individuals or 621 families have started returning to their homes in flood-hit Clarin town in this province after improved weather conditions.

In an interview Thursday, Clarin Mayor Emeterio Roa said floodwaters have subsided in the affected barangays.

Roa said the Department of Social Welfare and Development will also provide additional PHP5,000 cash aid per family.

"The families were taken good care of at evacuation centers as they were given food and other relief packs, but they also need cash when they go back to their homes," he said.

After most of the town was submerged in the Dec. 24-25 flood, Roa said one of their priorities is to repair a major dike infrastructure in one of its big tributaries, the Paca River.

The dike has a length of one kilometer and costs around PHP300 million. Sections of the embankment cracked at the height of the flood.

Some 2,570 evacuees were recorded with three casualties following the flood, which also damaged crops valued at PHP30 million.

Step to recovery

Flood-affected resident Jenalyn Uy, said she had to stay with her family at the Clarin National High School which was converted into an evacuation site.

Uy, 39, said she brought along her family's pets to the shelter, together with her elderly parents, her father age 91, and morher, 61.

The Uy family lost their livelihood in the flood, which included a computer shop and a hog-raising business.

After the local government announced they could return home, Uy said there are many things to be repaired at their house in Barangay Pan-ay since it was one of the most severely affected areas by the calamity.

"We are still being cautious about the weather; if it will still rain, we might not return immediately," she said.

Multi-sector response

Meanwhile, different sectors have bonded together to mount disaster response in the province.

Dr. Stefanie Zamora, medical officer at the Department of Health (DOH) in Northern Mindanao, said are continuously monitoring all evacuation centers in the province for health-related concerns.

She said the most common ailments being addressed are colds, headaches, hypertension, low bowel movement and influenza.

"We are anticipating more since there are evacuation centers added with several families and individuals affected," she said.

She added that the DOH also remains vigilant in preventing a possible outbreak of coronavirus disease 2019 due to the number of people crowding in evacuation centers.

The Philippine Red Cross (PRC) also mobilized its volunteers to launch health activities and campaigns to manage the risk of leptospirosis, dengue and other water-borne diseases in the affected Visayas and Mindanao regions.

The PRC's Health Services Unit also sent doxycycline, a prophylactic agent used for the treatment of leptospirosis.

Col. Christopher Acop, the Police Regional Office - Northern Mindanao chief of staff, said they have deployed an additional 1,000 personnel in the province to help with disaster risk reduction measures.
The state-run college, Northwestern Mindanao State College of Science and Technology, based in Tangub City, also conducted a donation drive and distributed relief packs to evacuation centers. (PNA)