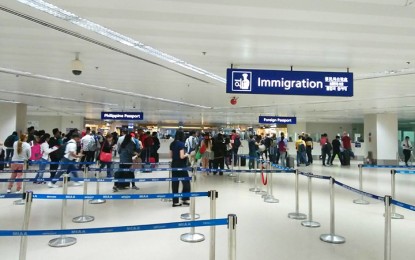 MANILA – A Chinese fugitive wanted in his home country for illegal gambling was intercepted by Bureau of Immigration (BI) officers at the Ninoy Aquino International Airport (NAIA).
In a statement Friday, Commissioner Norman Tansingco said Zeng Zhanhong was intercepted on Dec. 27 at the NAIA Terminal 1 as he was about to board an Air China flight to Beijing.
Tansingco said the foreigner was intercepted after the immigration officers who processed his departure found that he is the subject of a blue notice from the International Criminal Police Organization (Interpol) for being a fugitive from justice.
He noted that they immediately coordinated with counterparts in Beijing, where he was arrested upon arrival by Chinese policemen who were waiting for him at the airport the same day.
"His arrest became possible after the BI made the proper coordination with Chinese authorities in Manila," Tansingco added.
Zeng is allegedly a member of a criminal fraud syndicate in China's Shandong province and has a standing arrest and detention order.
He is accused of operating an illegal gambling website on the internet which is a serious criminal offense under Chinese law.
Meanwhile, the Bureau's Border Control and Intelligence Unit reported the arrest of an alleged Filipina illegal recruiter who was intercepted at the NAIA while she was about to leave the country.
The suspect, whose name was withheld pending the resolution of her case, is a 62-year-old female reportedly involved in the illegal recruitment of a victim to Dubai.
She was held at the NAIA 1 terminal last Dec. 22 before she could depart via a Scoot Airways flight to Singapore.
The suspect, who was turned over to the National Bureau of Investigation, was reportedly charged with illegal recruitment before the Davao City regional trial court which issued a warrant for her arrest.
She faces a maximum sentence of 20 years for violation of Republic Act 8042 or the Migrant Workers and Overseas Filipinos Act of 1995. (PNA)