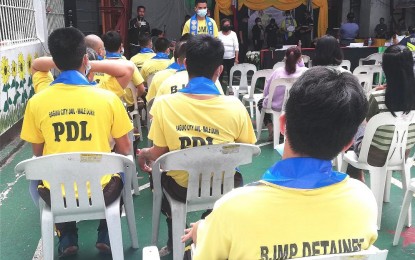 BAGUIO CITY – The Bureau of Jail Management and Penology (BJMP) continues to work with other government offices and private organizations in implementing a holistic approach to change the mindset and lifestyle of drug offenders.
"Marami tayong katulong sa programs natin para matulungan ang mga PDL (persons deprived of liberty) natin na mabago para hindi na nila balikan pa ang drugs (We have partners who help us implement programs for the PDLs to change and prevent them from returning to the illegal drugs activity)," said Supt. Mary Ann Ollaging-Tresmanio, warden of the Baguio City Jail Male Dorm (BCJMD), in an interview on Friday.
Tresmanio said a PDL charged with illegal drugs undergoes the "Katatagan, Kalusugan at Damayan ng Komunidad (KKDK)" drug rehabilitation program.
The KKDK is a full 18-module program that spans months aimed at changing the mindset of drug surrenderers and preventing them from returning to their old ways upon their reintegration into the community.
"The primary goal of the program is for them to no longer be charged with any crime or even to return to the illegal drug activity after they are released," she added.
Tresmanio said several PDLs facing drug cases are given a second chance to return to the community through the probation program while others have cases that are dismissed or are acquitted by the court.
She added that the KKDK is implemented with the help of the Outpatient Drug Treatment and Rehabilitation Center (ODTRC) of the Baguio General Hospital and Medical Center (BGHMC) which is managed by the Department of Health (DOH).
Non-government organizations and church-based groups also join the KKDK program.
"We also have sports activities, skills training to capacitate the persons and give them skills for a decent job or livelihood in case they go back home," Tresmanio said.
She said that 43 of their PDLs recently completed their modules and 17 of them have been released to the community, making the program more relevant.
Tresmanio said at least 55 percent of the male jail population are charged with violation of the comprehensive anti-illegal drugs law.
She noted that at the start of the Duterte administration in 2016 when the government focused on the illegal drug problem, a larger percentage of the jail population was facing drug charges but this gradually decreased as opportunities for a second chance were made available to them.
"Hanggat meron tayong naco-commit na offenders for violation of the drugs law, patuloy itong ginagawa ng ating facility (until offenders are being committed in jail for violation of the drug law, we will continue to have this program," the official added. (PNA)