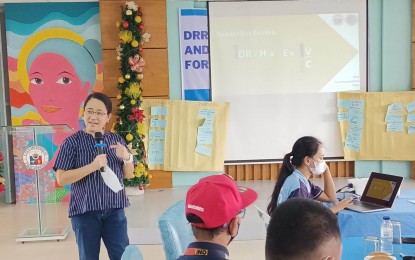 ILOILO CITY – City residents here are encouraged to prepare a survival kit (K-KIT) of tools and supplies enough to meet their needs for 72 hours during any disaster or emergency.
Iloilo City Disaster Risk Reduction and Management Office (CRDDMO) head Donna Magno said on Saturday that emergencies such as an earthquake can happen anytime without any warnings.
"It can happen anytime. So there is a sense of urgency, we always emphasize that to the public because we can never tell when it (will) happen," she said in an interview.
Magno said that in partnership with a private manning firm, they have been going around the city conducting community-based training, part of which is how to make a family disaster preparedness plan.
She added that for the past weeks, they have 50 trained personnel who reached out to barangays to conduct the training.
"They were able to train over 5,000," she said.
Next year they intend to go massive with their information drive and training.
The survival kit contains the family's food supply, first-aid and hygiene kits, medicines, water, clothes, beddings and other items they will need to survive for the next 72 hours as three days are said to be the crucial time for disaster response.
The kit has to be checked and replenished every three months and stored in an area that can be easily accessed in case of emergency.
Aside from the survival kit, a family disaster preparedness plan should also be prepared identifying the hazards in the community and potential effects, listing meeting places and evacuation centers in the barangay, assigning roles of family members in the preparation and response, and important contacts of family members and their usual locations.
Aside from earthquakes, other primary hazards in the city are typhoons, flooding, storm surge, water scarcity, fire, tsunami, and soil liquefaction. (PNA)