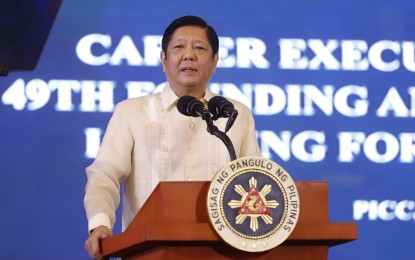 MANILA – President Ferdinand R. Marcos Jr. on New Year's Day urged Filipinos to embody the true meaning of solidarity as the nation moves toward recovery.
As 2022 closes, Marcos hopes that the Filipino people would draw inspiration from their love for fellow Filipinos and the country as he called anew for unity to realize shared aspirations for the country.
"The innate Bayanihan spirit in all of us is what will keep us going against all adversities that will continue to test our fortitude as a nation," he said in his New Year message.
"Together, let us move full-steam ahead towards our goal of giving a better life to every Filipino family. I am confident that, by coming together, we can withstand and overcome all challenges and bring our nation to greater heights," he added.
As the nation looks forward to a fruitful New Year, Marcos encouraged Filipinos to remain steadfast while asking for God's guidance in the journey to attaining a better, brighter and more prosperous future for the Philippines,
Momentous year for PH peace process
Secretary Carlito Galvez Jr., chief of the Office of the Presidential Adviser on Peace, Reconciliation and Unity (OPAPRU), said 2022 was a momentous year for the comprehensive Philippine peace process.
"Under the Marcos Administration's banner of unity, we were able to achieve major milestones as we continued to push forward the nation's peace agenda through the Five-Point Peace, Reconciliation and Unity Agenda," he said in a statement Sunday.
This as the OPAPRU chief extends the agency's New Year's greeting to all Filipinos.
"Last year, we saw the reunification of the country's major Moro fronts, the more aggressive roll-out of our local peace engagement efforts; the continuing transformation of former combatants, and the strengthening of partnerships with academic institutions in order to better mainstream peace education in the basic and higher education sectors. These are just some of the initial gains," Galvez said.
He added that the success of their peacebuilding interventions can be attributed to the high level of support coming from President Ferdinand R. Marcos Jr. who has vowed to fulfill the national government's commitments under all signed peace agreements.
"As the country celebrates the New Year, the OPAPRU is committed, more than ever, to sustain and build on the gains of the Philippine peace process by learning from the lessons of the past and applying these to our current and future peace initiatives," Galvez said.
He also urged all their peace partners and stakeholders to continue supporting the agency as they work to realize the collective vision of achieving a just and lasting peace for all Filipinos and the nation. (with reports from Priam Nepomuceno/PNA)