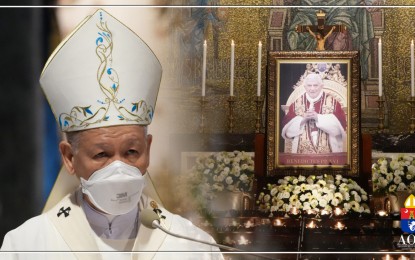 MANILA – Archbishop of Manila, Cardinal Jose Advincula, on Sunday asked the faithful to learn and follow the teachings and the life of the late Pope Emeritus Benedict XVI.
In his New Year's Day message, the archbishop paid tribute to the late pontiff and urged the public to pray for the eternal repose of his soul.

"Let us honor the memory of Pope Emeritus Benedict XVI by learning from his preaching and following his example of Christian life," he said.
"Let us pray for him that God may welcome him into his Kingdom."
Advincula also reminded the public that it is important to remember the former pontiff from Germany for courageously witnessing the Gospel "in a modern world marred by fractures and skepticism."

"He prophetically warned us against the "dictatorship of relativism", from which our post-truth world is now suffering. He proclaimed the truth of the Gospel through the gift of his eloquence, but also more poignantly, through his humility and silence," Advincula said, adding that they profoundly mourn the death of Benedict XVI.
"Together with the whole Church and all persons of goodwill, we mourn his death," Advincula said.
Pope Emeritus Benedict XVI died Saturday in his Vatican residence. He was 95. (PNA)