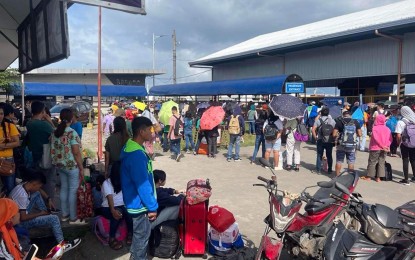 BACOLOD CITY – Almost 28,000 passengers have traveled through various ports across Western Visayas on Monday, a special non-working holiday after the New Year's Day, data of the Philippine Coast Guard showed.
The Coast Guard District-Western Visayas (CGDWW), headed by Commodore Arnaldo Lim, reported that as of 3 p.m., some 14,818 outbound passengers and 12,906 inbound passengers were able to board the vessels plying routes in Negros and Panay islands to go home or return to work after the holidays.
"There were no stranded passengers," the report said.
All over the region, the CGDWV deployed 292 personnel who inspected 305 vessels and motorized boats.
As part of the implementation of Oplan Biyaheng Ayos: Pasko 2022, the Coast Guard districts, stations, and substations will remain on heightened alert until Jan. 7 to ensure a safe, secure, convenient and comfortable sea travel for the riding public during the holiday season.
According to the Police Regional Office-Western Visayas, the region welcomed the New Year in a "generally peaceful and orderly" manner as no major incidents related to the celebrations have been reported. (PNA)