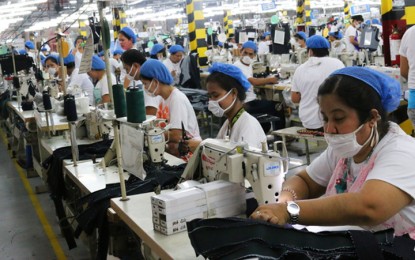 MANILA – The country's manufacturing performance in December 2022 recorded its best score in six months, according to the latest S&P Global Philippines Manufacturing Purchasing Managers' Index (PMI).
S&P Global reported Tuesday that the Philippines PMI in December 2022 increased to 53.1 from 52.7 in November 2022.
It attributed the improvement to the expansion in production levels, solid domestic demand, and an upturn in hiring activities.
"The latest PMI data signaled sustained growth across the Filipino manufacturing sector. The release of pent-up demand because of the Covid (coronavirus) pandemic continued to help the recovery of the manufacturing sector this year," S&P Global economist Maryam Baluch said.
The survey noted that output level last month was the highest since June.
Domestic demand supported the growth in new orders for Philippine goods in December 2022, as export orders continued to log a contraction for 10 consecutive months.
"The rate of growth quickened in the month, indicating the fastest rise in output levels since June," the S&P Global report read.
The increase in headcount in the country's manufacturing sector also persisted in December although "the rate of job creation was only fractional overall".
Both input buying and inventories of factories slightly improved last month, the survey added.
S&P Global said price pressure remains a threat to demand, which made factories sell their output in December at the softest rate in 2022 to drive sales.
Baluch said aside from inflation, supply chain constraints remain a challenge for the Philippine manufacturing sector this year.
"While the central bank of (the) Philippines has taken measures to curb inflation, global supply chain delays and material shortages remain a much more complex issue to solve," she said.
The S&P Global survey said manufacturers' outlook this year remains rosy backed by strong domestic demand and stable economic environment. Firms also have investment plans for this year.
"Goods producers remain strongly upbeat for the year ahead, banking largely on domestic demand to help maintain growth," Baluch added. (PNA)