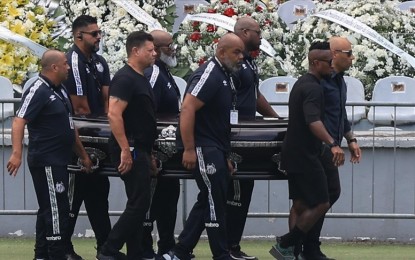 ISTANBUL – The coffin of Brazilian football icon Pele on Monday arrived at Santos FC's Vila Belmiro stadium pitch, where he spent most of his career.
Pele's coffin, placed under a large canopy at the stadium, will be buried at the Memorial Necropole Ecumenical vertical cemetery in his hometown of Santos on Tuesday.
Thousands of Brazilian fans walked past his casket to pay their last respect to Pele at the stadium. FIFA President Gianni Infantino and South America's football chief Alejandro Dominguez were among the attendees.
Turkish Foreign Minister Mevlut Cavusoglu and Brazil's newly sworn-in President Luiz Inacio Lula da Silva will attend the funeral ceremony.
Nicknamed "the Black Pearl," Pele died on Dec. 29 at age 82 after a long battle with cancer.
Brazil declared three days of mourning following his death.
Pele was the all-time leading scorer in the history of sports with 1,283 goals in 1,363 games during a glittering career from 1957 to 1977.
Also nicknamed "O Rei," or "The King," he is considered one of the greatest footballers of all time.
Pele won six Brazilian Serie A titles, two Copa Libertadores titles, and the Intercontinental Cup for Santos.
He led Brazil to a record three World Cup titles in 1958, 1962, and 1970. (Anadolu)