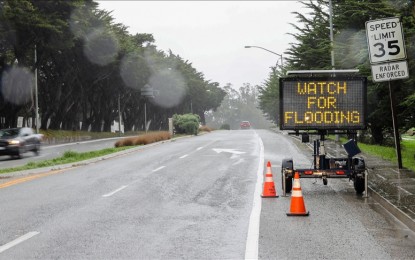 NEW YORK -- Residents of the US state of California welcomed New Year's Day with panic due to an earthquake and flood disasters.
According to the US Geological Survey, a 5.4-magnitude earthquake shook the city of Rio Dell, Humboldt County on Sunday.
Many houses in the city were damaged due to the earthquake, while half of the residents were cut off from power and 30% were without water, according to the Humboldt County Sheriff's Office.
On Dec. 20, Rio Dell also saw a magnitude 6.4 earthquake that killed two people and caused widespread damage.
Flooding also continued to wreak havoc in parts of the Golden State.
Two people were reported dead due to floods caused by storms over the weekend. In the capital Sacramento, flooding left dozens of cars and homes underwater and thousands without power.
Emergency teams in Sacramento also airlifted many stranded residents to safe areas by helicopter.
Nearly 235,000 homes and businesses were left without power in California and neighboring Nevada, where rains were intense, multiple news outlets reported. (Anadolu)