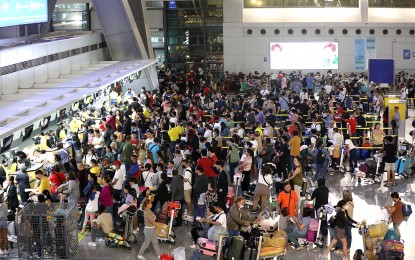 MANILA – The chair of the House Committee on Overseas Workers Affairs on Tuesday called on the Department of Migrant Workers (DMW) to take all necessary actions to protect the welfare and employment of overseas Filipino workers (OFWs) in the aftermath of technical issues that downed air navigation facilities at the Ninoy Aquino International Airport (NAIA).
"I am urgently calling on the DMW to give our OFWs the necessary protection from termination or sanction and reassure them that their jobs are safe and that they don't need to worry. Our OFWs should not be the ones to suffer because of this disruption," Kabayan party-list Representative Ron Salo said in a statement.
"We are fully aware of and understand the fears of our OFWs. The government must do everything in its power to ensure that our OFWs are not sanctioned, or worse, terminated because of this unfortunate event," he added.
Salo made the statement after OFWs returning to their employers after the Christmas vacation, and OFWs who are going to be deployed, expressed fears that they might get terminated or rejected by their employers for failure to show up to work due to the cancellation of flights last Jan. 1.
More than 300 flights were cancelled, diverted, or delayed on New Year's Day, affecting more than 60,000 passengers.
Authorities from the Department of Transportation (DOTR), Civil Aviation Authority of the Philippines (CAAP), and NAIA have stated they expect to normalize all operations within 72 hours.
Meanwhile, the party-list lawmaker also urged private recruitment agencies to immediately coordinate with their foreign counterparts or foreign employers to provide updates on the flight status of affected OFWs.
"Manning agencies should likewise undertake the same measure with their foreign principals concerning affected seafarers," he said.
"I also call on the other agencies of the government to ensure that the needs of our OFWs and other passengers are necessarily provided for while they are stranded in our airports," Salo said. (PNA)