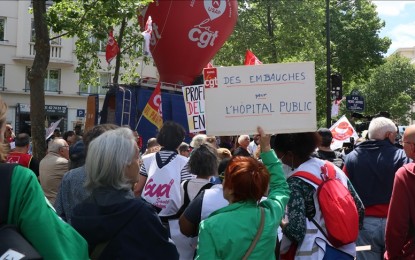 ANKARA – Doctors in France have extended their strike for higher pay and working conditions for another week.
The strike will continue through the week from Jan. 2 to Jan. 8, with a protest march to be organized in Paris this Thursday, the Medecins Pour Demain (Doctors for Tomorrow) collective said in a statement.
The decision was taken because the government failed to address the demands put forward by general practitioners (GPs), the group said on Monday, the day the strike was initially due to end.
The collective kicked off the strike on Dec. 26, calling for the basic consultation fees of GPs to be doubled from the current €25 ($26) to €50 ($53), as well as improvements in their overall working conditions.
"On the contrary, we were even unfairly criticized by our minister," the statement said.
It was referring to Health Minister Francois Braun's comments last week, who condemned doctors for protesting "at a time of extreme difficulty" as France struggles with a surge in cases of bronchiolitis, flu, and Covid-19. (Anadolu)