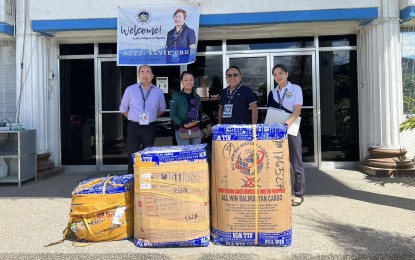 CEBU CITY – The Bureau of Customs-Port of Cebu on Tuesday said it is completing the delivery of 185 "balikbayan" boxes to families of overseas Filipino workers (OFWs) free of charge after the packages were abandoned in warehouses, mostly in Manila.
Mario David Luminarias Jr., BOC-Cebu's acting deputy collector for operations, said the boxes arrived in Cebu in late December and are being distributed to the consignees residing in this capital city, Lapu-Lapu City, Cordova, Dumaguete City and Bohol province.
Luminarias said the packages which were loaded onto two 20-footer container vans were mostly from Dubai.
He said in October last year, Customs Commissioner Yogi Filemon Ruiz instructed his personnel to consolidate the abandoned boxes in various warehouses and ordered their delivery to the consignees in Luzon, Visayas and Mindanao free of charge.
"In the spirit of Christmas, the Bureau of Customs doesn't collect any fee at all. I think it's the instruction of President Ferdinand Marcos Jr. to deliver it free of charge, including the duties and taxes if there are taxable items. Our thoughts are for the OFWs who want their families to be happy," Luminarias told the Philippine News Agency.
The BOC, he added, has shouldered the cost of delivery in coordination with cargo handlers.
Luminarias said the subports of Mactan, Dumaguete and the customs office at the Panglao International Airport in Bohol were tasked to complete the delivery of the packages this week.
Mactan subport Collector Gerardo Campo said they have completed the distribution for the recipients in Lapu-Lapu City and the town of Cordova.
"We can't imagine their (consignees') feelings when they received their packages," Campo told the PNA.
Apparently, some of the consignees were no longer expecting to receive their balikbayan boxes after much delay, as they noted schemes by unscrupulous consolidators abroad who would just collect the freight fees even without a clear agreement with local forwarders with regard to the delivery.
Ruiz offered a long-term solution by pushing for policy measures to thwart such schemes through a collaboration with the Department of Trade and Industry's Fair Trade Enforcement Bureau.
Luminarias said the BOC under Ruiz has created the Balikbayan Box One-Stop-Shop as an offshoot of the inter-agency agreement with the DTI and the Department of Migrant Workers to put in place collaborative measures to stop the illicit activities of "balikbayan" box consolidators abroad. (PNA)