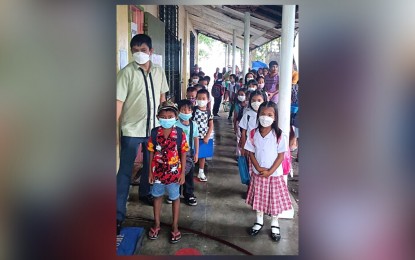 SAN JOSE DE BUENAVISTA, Antique – The Department of Education (DepEd) will be constructing 19 new classrooms and repairing 10 classrooms in the amount of over PHP64 million as its priority projects within the year.
Evelyn Remo, DepEd Schools Division of Antique chief on Governance and Administration, said in an interview Tuesday the Department of Public Works and Highways (DPWH) will implement the construction of the 19 classrooms.

Three of the new classrooms will be built at Iba Elementary School in the town of Anini-y in the amount of PHP6.8 million, two at Belison Central School in Belison town with a budget of PHP5 million, three classrooms at Jinalinan-Paliwan Elementary School in Bugasong town in the amount of PHP6.8 million, and two at the Tinindugan Primary School in Libertad town at PHP5 million.
"There will also be two additional last mile schools where classrooms will be constructed," Remo said.
The last mile schools are the Buenavista Elementary School in Belison with seven classrooms in the amount of PHP21 million and the Igcagay Elementary School in Libertad with two classrooms at PHP15 million.
Repairs will be done at the three classrooms of Mojon Elementary School in Belison worth PHP2 million and the seven classrooms of Lindero Elementary School in Libertad worth PHP3 million.
In an interview, Jinalinan-Paliwan Elementary School head Saudi Grace Dolloza said their old school building was damaged by Typhoon Frank (Fengshen) in 2008 and they have transferred to another site about one kilometer away.
However, due to the lack of classrooms in their new site, Grades 3 and 4 learners still have to use the two classrooms in their old school near the coastline, according to Dolloza.
Randy Verano, a parent and also a teacher of the 19 Grade 3 learners, said they fear for their students' lives every time there is weather disturbance because of the proximity of their classroom to the shoreline.
"Our classrooms are also often flooded that we frequently have class suspension," he said.
Verano added that they even have to do sandbagging in the old site to prevent flooding.
He has been teaching in the school for 15 years and is glad the Grades 3 and 4 learners could soon transfer to their new site once the new classrooms will be finished within the year. (PNA)