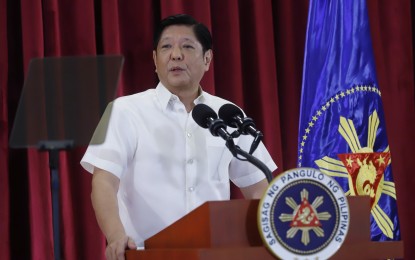 MANILA – A political analyst on Tuesday expressed hope that President Ferdinand R. Marcos Jr. would be both "decisive" and "adamant" in handling maritime issues with China in the South China Sea during his three-day state visit there.
Dr. Froilan Calilung, who teaches political science at the University of Santo Tomas, acknowledged that the sea row would always be "a touchy" subject between the Philippines and China.
However, he expressed confidence that both Marcos and Chinese President Xi Jinping would exercise "utmost diplomacy" in handling the maritime issues.
Calilung said Marcos has been vocal about continuing the "friend to all, enemy to one" policy, but noted that he must also be clear about telling China not to trample on the Philippines' maritime rights.
"I hope that the President will also be very adamant, and very decisive at the same time na huwag talagang ibigay ano man iyong atin (he won't surrender) a part of our sovereignty, not to give it up to China because this is something that a President, being the head of state, and the chief architect of our foreign policy should actually maintain," he said in a Laging Handa public briefing.
He likewise welcomed Marcos' readiness to push for joint oil and gas exploration in the West Philippine Sea (WPS).
"I would like to believe the statements that were made by our President that he is going, he is willing to explore patterns of cooperation with China, probably joint cooperation sa oil exploration, I think, will be good for the country," he said.
In November 2018, the Philippines signed a memorandum of understanding with China on joint oil and gas development in the WPS.
Due to constitutional constraints and issues on the country's sovereignty, the Philippines, during the Duterte administration, terminated the talks before Marcos assumed the presidency in June last year.
China continues to reject the 2016 Hague arbitral ruling, which invalidated its territorial claims in the WPS, which falls within the country's exclusive economic zone (EEZ).
Meanwhile, Calilung emphasized the importance of Marcos' state visit to China in setting the tone of bilateral relations between the two countries.
Marcos proceeded with his China trip despite rising coronavirus cases in the Asian giant.
"He (Marcos) really believes that the state visit is going to define whatever will be the bilateral relations that will exist between the two countries – at least for the next five or six years ano. So napakahalaga nito rin para sa atin (this is very important for us) because China is a very important player in the geopolitical, as well as in the economic dimensions of the world right now," he said.
Citing the Department of Foreign Affairs, he said Marcos' trip is expected to bring home investment pledges that would result in jobs for Filipinos.
"Ito ay makakatulong ng malaki sa pagpapalawig nga at pagtataguyod, lalung-lalo na ng ating ekonomiya (This is going to be a huge help in boosting our economy). So I think this is going to be a very opportune time for us na magkaroon ng mga (to have) patterns of cooperation with a regional superpower, an economic superpower that in the case of China," he added.
Marcos' state visit to China, his seventh foreign trip since assuming office, is from Jan. 3 to 5. (PNA)