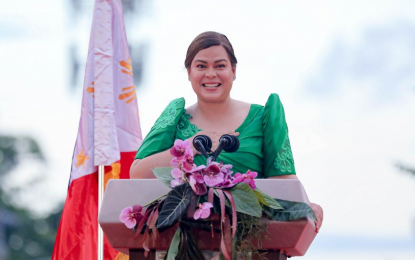 MANILA – Vice President Sara Z. Duterte on Tuesday officially served as the government caretaker as President Ferdinand R. Marcos Jr. embarked on a three-day state visit to China.
Duterte will take care of the day-to-day operations of the government while Marcos is in China, Undersecretary Cheloy Garafil, officer-in-charge of the Office of the Press Secretary, said in a text message.
In a separate statement, Garafil said PR001, the chartered flight carrying Marcos and the entire Philippine delegation, landed at the Beijing Capital International Airport at 6:10 p.m.
"President Ferdinand R. Marcos Jr. arrived in China on Tuesday evening for a three-day state visit as he hopes to strengthen cooperation with Asia's major economic power," she said.
Marcos' trip to China is his first bilateral visit to a non-member of the Association of Southeast Asian Nations.
In 1976, Marcos went to China to accompany his mother, former First Lady Imelda Marcos, as she laid the groundwork for the establishment of diplomatic relations between the two countries forged by former president Ferdinand E. Marcos one year before.
In his pre-departure statement delivered at the Villamor Air Base in Pasay City, Marcos said he hopes to elevate the Philippines' ties with China to a "comprehensive strategic partnership."
He also expressed his intent to broaden the two nations' cooperation in such areas as agriculture, energy, infrastructure, science and technology, trade and investment, and people-to-people exchanges.
Marcos is also set to meet with Chinese President Xi Jinping to discuss bilateral and regional political-security issues to thresh out any differences in a friendly manner.
More than 10 key bilateral agreements are also expected to be signed during Marcos' visit to China.
The President also sought to strengthen vibrant trade and investment relations with China as the Philippines accelerates its post-pandemic economic growth.
He likewise promised to continue pursuing initiatives in priority areas to ensure food security, sufficient and stable energy, and a sustainable digital economy.
Marcos said he would also encourage Chinese tourists, students, and investors to return to the Philippines as the country adapts to the "new normal."
AFP chief joins PBBM send-off for China visit
Armed Forces of the Philippines (AFP) chief-of-staff Lt. Gen. Bartolome Vicente Bacarro was among the ranking government officials who joined the send-off ceremonies at Villamor Air Base, Pasay City for the Chief Executive's three-day visit to China.
Both countries are expected to strengthen their trade, investment ties, and cooperation for mutual concerns. (with Priam Nepomuceno/PNA)