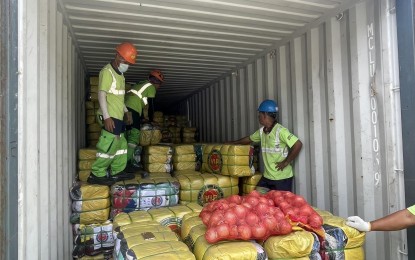 MANILA – Customs authorities intercepted PHP17 million worth of smuggled white onions hidden in three containers declared as having clothing items and home products at the Port of Manila.
In a statement Wednesday, Bureau of Customs (BOC) Commissioner Yogi Filemon Ruiz said the shipments that came from China were consigned to SB Express Logistics and Business Solution Inc.
"The bureau has, so far, examined, detained, and seized hundreds of millions worth of shipments that contain agricultural products this month alone. If they think they can use the 'ukay-ukay' to hide the onions, they are mistaken," Ruiz said.
He said the containers were subjected to 100 percent physical examination on Dec. 23, after an alert order (AO) was issued a day before.
"We swore to protect the country's borders from this kind of illegal activity. But much more than that, we are also trying to protect our people, many of whom are deeply affected—and have been crying out—against the prices of the most basic of our food products," Ruiz said.
It was originally declared to contain plastic buckets, ladies' blouses, ladies' slippers, dish plates and cat litter.
However, the examination of the first container yielded sacks of yellow onions hidden in between sacks of ukay-ukay (used clothing).
The examination was witnessed by the assigned Customs examiner and representatives from the Department of Agriculture (DA), Bureau of Plant Industry, Chamber of Customs Brokers Inc. and the Customs Intelligence and Investigation Service.
Aside from the containers included under this AO, seven other containers consigned to the same company are on hold by the bureau for suspicion of misdeclaration of items.
Customs Deputy Commissioner for Intelligence Juvymax Uy noted that the success of the operation became possible because of the coordination between BOC and the DA.
"We processed the derogatory information received by the DA and shared with us. Based on these initial reports and investigation, we issued the AO shortly before Christmas. I thank all our hardworking team members for ensuring that we can complete the examination of the containers before the holidays kick in," he said. (PNA)