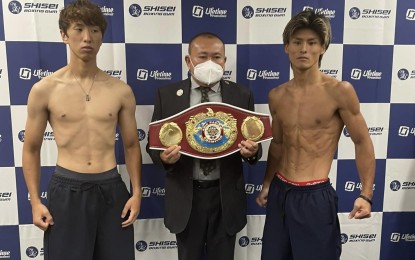 CEBU CITY – The president of the Association of Philippine Professional Boxing Officials (APPBRO)-Visayas on Wednesday issued an open letter against a vlogger and asked to stop maligning the reputation of Cebu-based boxing judges, saying they officiated matches professionally.
Edward Ligas, APPBRO-Visayas chapter president, said he is filing cyber libel charges against Anthony Joaquin Arieta, the owner of a social media group, Paulo G. "Pow" Salud, and a netizen, Goldy Meal Cabual Espinas, for accusing him and other boxing judges here of corruption in officiating boxing matches.
"We did not mind the post of Mr. Arieta criticizing Cebu ring officials because there was no mention of names. We thought it was a knee-jerk reaction of a vlogger who did not favor the result of boxing matches, but we were wrong; he continued criticizing the judges from Cebu -- he even named two other judges and me. With the seriousness of the accusations and a pattern of attacks, we deem it necessary to answer them," Ligas said in his open letter posted on his Facebook account.
Ligas took exceptions on the vlogger's post calling him and other Cebu-based boxing judges "(blatantly) biased officials", telling them to "end the robberies, and play fair for both fighters," and an appeal to media personalities to "speak up, and don't get involved in this puppet governance they are paying (fight for justice)."
He said the post mentioned the scores of the boxing matches between boxers Christian Bacolod and April Jay Abne in August last year, Daniel Nichols and Justine Tesoro in December last year, and John Paul Gabunilla and Jessie Espinas last week.
The post also asked the "boxers who were robbed in Cebu, Mindanao, or Manila, (to) please do speak up publicly".
Ligas said the vlogger should have been circumspect in his criticism as he was not at the venue of the said fights and just relying on video footage in making his libelous comments over social media.
The professional boxing judge who is also working as a radio sports commentator advised the critics to consider the criteria for judging which they religiously follow in officiating boxing matches in Cebu.
He explained the scorecards of the three judges in the boxing match between Abne and Bacolod which has identical scores of close unanimous decision 96-94.
"You concluded it as a disputable decision because the audience was cheering for a losing boxer. Mr. Arieta, there is no such thing as audience impact in boxing," he said, adding that they "cannot be swayed by cheers, shouts, and boos" as they scored based on criteria.
He suggested that those who complained about that fight were those who lost in huge betting, saying that they don't care about those bettors or gamblers as they practice a "no mercy scoring".
"A win must be a win, and a loss must be a loss," he added.
Ligas, who has judged more than a dozen of world title fights and over 200 regional title fights for 18 years, also cried foul over Cebu boxing judges being called "inept and that we are not deserving of our title as judges."
"You accused us of bias and robbers of a boxer who lost because of our decision. Our bias is towards the criteria. The allegations you made are superfluous and farfetched," he said.
He further told the critics that they cannot throw accusations of corruption because boxing judges from Cebu have been performing their jobs in a professional way without complaint from regulatory bodies such as the Games and Amusement Board and international boxing organizations, pointing out that they have been doing all these out of passion and not for money.
He said all the Cebu-based boxing judges are engaged in other occupations.
Ligas said he also played a role in the ouster of many sports officials due to corruption. (PNA)