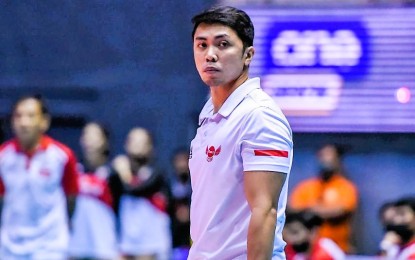 MANILA – Rald Ricafort has been appointed head coach of the PLDT High Speed Hitters for the 2023 Premier Volleyball League (PVL) season.
He was a former mentor of the Petro Gazz Angels, who reached the finals of the 2022 PVL Reinforced Conference as a third seed and eventually won the title.
"We, at PLDT, are excited to work with a young champion coach in Coach Rald. We know he can guide our players to the next level. We are always looking to improve and get the best out of our team," said PLDT/SMART Head of Sports Jude Turcuato in a statement released to the media on Wednesday.
Ricafort thanked Petro Gazz for the experience that taught him so much.
"I'm very grateful to Petro Gazz for the four years we spent there because it helped us to be the coach that we are today," said Ricafort, who serves a head coach of the men's team and assistant coach of the women's squad of the University of the Philippines.
"As mentioned to me by PLDT that they want to have a youth movement beginning with the coach, I also saw the direction where I want my career to go. I took it as the perfect opportunity to have a new environment," he said.
During the 2022 season under George Pascua, the PLDT High Speed Hitters finished fifth in the Open Conference, fourth in the Invitational Conference, and sixth in the Reinforced Conference.
Despite the pressure, Ricafort is optimistic.
"Of course, the pressure is always there to compete but for me, I will enjoy it. Knowing our history in Petro before that for three years, there were almost different lineups...I feel we were able to deliver," he said.
"Here, the challenge is to give the extra push to this PLDT team which is also strong and make them motivated to find their next level," he said.
PLDT also tapped Arnold Laniog, the De La Salle University Green Spikers head coach who steered the College of Saint Benilde's men's team to the NCAA Season 92 title and Petro Gazz to the 2019 Reinforced Conference title.
"Having Coach Arnold is definitely a big help for me as I move to this new environment since we were together all these years. With him around, there won't be much of an adjustment in the transition we want to happen in the team," Ricafort said. "I'm very thankful that he's here with me." (PNA)