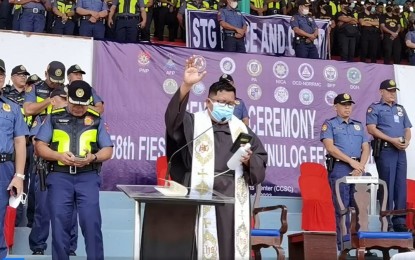 CEBU CITY – The chief of the Cebu City police on Wednesday said it is up for the National Telecommunications Commission (NTC) to implement a signal jam during major activities for the Sinulog 2023.
The opening salvo of the Fiesta Señor this year will be on Thursday dawn when thousands of devotees of the Santo Niño are expected to join the solemn "walk with Jesus" from the Fuente Osmeña Rotunda to the 457-old Basilica Minore del Sto. Niño.
Col. Ireneo Dalogdog, Cebu City Police Office director, said they will follow the decision of the NTC on whether to jam the cellular phone signals, especially during the grand parade on Sinulog Sunday (Jan. 15).
As the entire city police force is placed under full alert starting Wednesday, Dalogdog said he has also recommended some measures to ensure a peaceful celebration.
"Yesterday, I recommended to our regional director of the Police Regional Office-7 (PRO-7) that the nearby communities, municipalities, cities, and provinces like Bohol and Negros Oriental should conduct checkpoints to help secure the Sinulog Festival," Dalogdog said in Cebuano.
The police will implement a skeletal force starting Wednesday night in preparation for the opening salvo of the Fiesta Señor, he added.
PRO-7 chief, Brig. Gen. Jerry Bearis, said although the intelligence community received no reports of threats to disturb the peaceful conduct of the Sinulog this year, the police will continue to coordinate with other government agencies and stakeholders to ensure a "fruitful and successful celebration".
He said 2,500 police personnel will be deployed for the Sinulog, along with the uniformed members of the Armed Forces of the Philippines and Bureau of Fire Protection, among others.
Councilor Philip Zafra, chair of the City Council's peace and order committee, said the city government, along with the law enforcement group, has readied contingency measures in case of bad weather during the Sinulog Grand Parade on fiesta Sunday.
"I have learned that the mayor (Michael Rama) has invited the President and Vice President, the cabinet secretaries, and all officials, especially the members of the League of Cities of the Philippines. There are confirmations but I cannot divulge yet as to whether the President will attend," Zafra said.
Meanwhile, Office of Civil Defense (OCD)-Central Visayas acting chief, Neil Balaba, encouraged devotees of the Sto. Niño to still practice the health protocols against Covid-19 when they participate in Sinulog events.
Although wearing of face mask has been optional in the capital city, Balaba said the spread of the virus can be prevented if measures are still in place. (PNA)