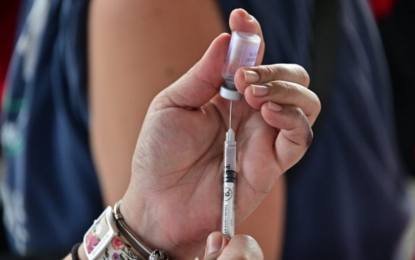 MANILA – Iloilo Representative and House Deputy Majority Leader Janette Garin on Wednesday advised concerned government agencies not to make drastic decisions over plans to reintroduce mandatory coronavirus disease 2019 (Covid-19) tests for travelers arriving in the country and refer to science-based responses instead.
Garin expressed concern over the confusion brought about by unverified information particularly the fear that the increased number of cases could result in the development of variants of concern (VOCs).
"Before coming up with a decision on the issue of mandatory testing on travelers from China, our government can first seek some clarification with the World Health Organization and the Chinese Embassy on the real situation," she said.
"For instance, the most that we can request is a polymerase chain reaction (PCR) test before departure. Realistically speaking, we do not have the systems and processes in place, unlike other countries. Even our vaccination certificates and its corresponding IT system is chaotic," she added.
Garin, a vaccinology expert, clarifies that VOCs is unlikely to happen in China given its 95 percent vaccination coverage.
"We should be more concerned on how to increase our vaccination and booster coverage so as to sustain the initial gains we have," she said.
She reiterated the four benefits of vaccination -- prevent deaths; reduce severity; reduce hospitalization; and prevent mutation. VOCs happen among the unvaccinated, immunocompromised patients.
If and when the country decides on imposing restrictions, Garin said decisions should be based on science, saying closing the doors on China will turn away tourists and investors at a time when the country's tourism is just recovering.
"Let us not lose sight of the current basis for Covid protocols and guidelines. We have shifted to deaths and ICU utilization rather than number of positives," said Garin, a former Department of Health (DOH) secretary.
"Kung ibabase natin sa siyensya, tingnan natin na kung tumataas ang (If we base it on science, let's see there is surge in) hospital and Intensive Care Unit (ICU) admissions, then that's a red flag. Pero kung maraming natatamaan ng Covid pero parang sipon at lagnat lang ay hindi ito alarming (But if there are many who turned Covid positive, but just like cold and fever only, such is not alarming). We have more deaths from non-Covid ailments and other problems dahil maraming tao ang hindi na nagpapakonsulta at hindi na umiinom ng kanilang (because many people do not see a doctor and they do not take their) maintenance medicines," she said.
Garin has called on the DOH to brief other national government agencies, citing the lack of scientific basis of the Department of Transportation's recommendation.
She also said Filipinos should not take what is happening in China seriously, saying "we have bigger problems to face. Covid is here to stay."
She said it is more important to be prepared in securing enough budget to fund this health problem.
"Also important to note is the possibility that Covid patients need not isolate for long. The possibility of the asymptomatics being allowed to work in a country with high vaccination coverage should be explored. High vaccination coverage means we can live with Covid," Garin said. (PNA)