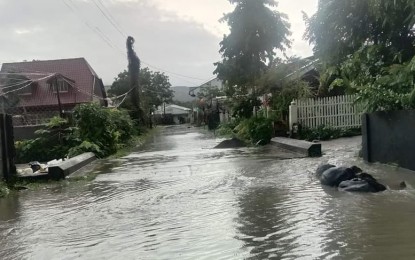 SAN JOSE DE BUENAVISTA, Antique – Four towns in the province of Antique on Wednesday suspended classes in all levels due to heavy rains and flooding brought by a low pressure area (LPA).
Antique Provincial Disaster Risk Reduction and Management (PDRRM) Officer Broderick Train said in an interview Wednesday that heavy rainfall has been experienced since early morning in the towns of Libertad, Pandan, Sebaste, and the island municipality of Caluya prompting their mayors to suspend classes.
"The northern part of Antique had been experiencing moderate to heavy rains since 1 o'clock this morning that the mayors declared suspension of classes," Train said.
While the PDRRM Office was not activated, it continues to monitor the situation through the help of its local counterparts to provide early advisory to residents, he added.
The PDRRMO cautioned the public to be on alert because of possible landslides or flash floods.
The southern part of Antique, according to Train, is experiencing light to moderate rain, hence schools continued to hold classes.
Department of Education (DepEd) Sibalom South District Supervisor, Dr. Demar Cahilig, in a separate interview, said classes resumed Wednesday after the Christmas holiday.
"There were learners, however, who have not yet reported to their classes, probably because of the intermittent rain in their areas or because of the separation anxiety from their parents, "Cahilig said.
He said several students still come from distant barangays so they need to stay in boarding houses away from their parents resulting in separation anxiety. (PNA)