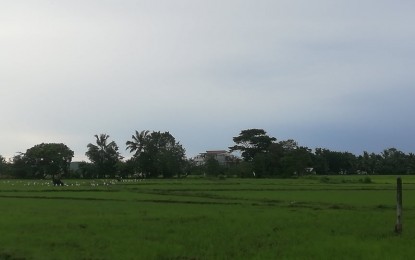 SAN JOSE DE BUENAVISTA, Antique – A board member here in Antique has vowed to do his best to secure the support of his colleagues for his proposed ordinance seeking a 20 percent discount on payment to real property tax (RPT) for those affected by the Severe Tropical Storm Paeng last November.
"The passage of the ordinance is being awaited, especially by the farmers who are landowners for it could alleviate their situations," said Board Member Rony Molina, the author of the proposed ordinance, in an interview on Wednesday.
Molina submitted the proposed legislation before the Provincial Board back on Dec. 5, 2022 with farmer-landowners whose properties were damaged by the calamity in mind.
He said that farmers could use their savings to buy farm inputs for this cropping season.
Sonie Guanco, officer-in-charge of the Department of Agricultural Program Coordinating Office in Antique, said that the proposed ordinance would be of great help to the farmers considering that their planted crops were damaged.
"It is being expected that there will really be a reduction of production on rice because of the STS Paeng," he said.
Data from the Antique Office of the Provincial Agriculturist (OPA) showed that Paeng's estimated damage on rice production has reached PHP86 million for about 9,679 hectares of rice land affected excluding fisheries and other agricultural commodities.
The committee on ways and means chaired by Board Member Victor Condez will be calling for a hearing on the proposed ordinance this second week of January to come up with recommendations.
Once approved, the proposed discounted RPT will be good for one year starting Jan.1, 2023. (PNA)