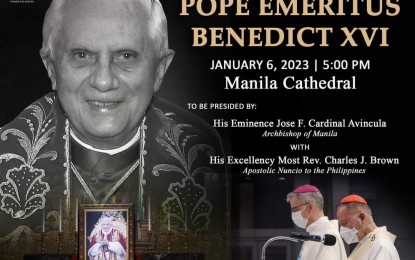 MANILA – The Manila Cathedral will be holding a Requiem Mass for the late Pope Emeritus Benedict XVI on Friday.
In a social media post on Wednesday, it said the Mass will be held at 5 p.m.
"There will be a Requiem Mass for Pope Emeritus Benedict XVI to be presided over by Manila Archbishop Cardinal Jose Advincula with Archbishop Charles Brown, Apostolic Nuncio to the Philippines," the Minor Basilica of the Immaculate Conception in Intramuros, Manila said.
The Requiem Mass will be held a day after the funeral mass of Benedict XVI at the Vatican.
Earlier, the Manila Cathedral opened its Christ the King Chapel for those who want to offer prayers, light candles and write in the book of condolences for the late pontiff.
At the Vatican, the public viewing of the former pope's remains began at the St. Peter's Basilica on Jan. 2, where thousands of pilgrims paid their final respects.
Pope Francis is set to lead the funeral Mass of Benedict XVI on Thursday 9:30 a.m. (Rome time) at the St. Peter's Square.
After the funeral Mass, his body will be carried to his final resting place in the crypt of St. Peter's Basilica.
Benedict XVI, or Joseph Aloisuis Ratzinger, passed away on Dec. 31, 2022 at 9:34 a.m. at the Mater Ecclesiae Monastery, where he resided after resigning in 2013. (PNA)