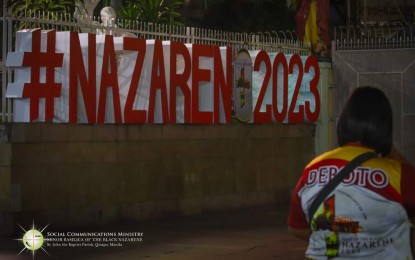 MANILA – At least 1 million devotees are expected to attend the activities at the Quirino Grandstand in Manila for the feast of the Black Nazarene starting this weekend.
Fr. Earl Valdez, attached priest of the Quiapo Church, said they are anticipating that many people will attend the celebrations at the venue across Luneta Park.
"In previous years (pre-pandemic), we reached millions in total, and all Masses were filled. In the grandstand, probably, the usual number of devotees pre-pandemic. We expect the grandstand to have whatever devotees can occupy and together with the line for the tribute, it will really reach a million," the Catholic priest said in an interview Thursday.
The image of the black Jesus Christ will be at the Quirino Grandstand for three days or from Jan. 7 to 9.
The initial activity is the "pagpupugay" (viewing and touching) which will run from Jan. 7 to 9, replacing the traditional pahalik (kissing of the image of the Black Nazarene).
On Jan. 8, a Mass will be held at midnight to be presided by Fr. Rufino Sescon Jr., rector of the Minor Basilica of the Black Nazarene, which will be followed by the Walk of Faith procession.
The procession will start from the Grandstand to Quiapo Church in Quezon Boulevard.
Manila Archbishop Cardinal Jose Advincula, on the other hand, will lead the Feast Day Mass at midnight of Jan. 9. (PNA)