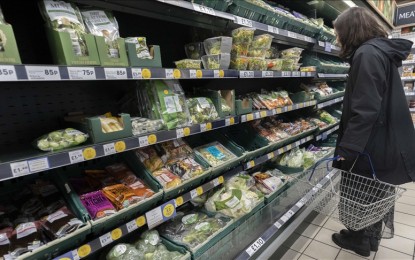 LONDON – UK food prices rose at a record pace in December, hitting an inflation rate of 13.3 percent, up from 12.4 percent in November, according to the latest figures from the British Retail Consortium.
This is above the three-month average rate of 12 percent, the highest inflation rate in the food category on record.
"It was a challenging Christmas for many households across the UK. Not only did the cold snap force people to spend more on their energy bills, but the prices of many essential foods also rose as reverberations from the war in Ukraine continued to keep high the cost of animal feed, fertilizer and energy," Helen Dickinson, CEO of the consortium, said in a statement.
She said 2023 will be another "difficult year" for consumers and businesses as inflation shows "no immediate signs of waning."
Mike Watkins, the head of Retailer and Business Insight, NielsenIQ, also said consumer demand is likely to be weak in Q1 due to the impact of energy price rises and for many, Christmas spending bills starting to arrive.
"So the increase in food inflation is going to put further pressure on household budgets and it's unlikely that there will be any improvement in the consumer mindset around personal finances in the near term," he said. (Anadolu)