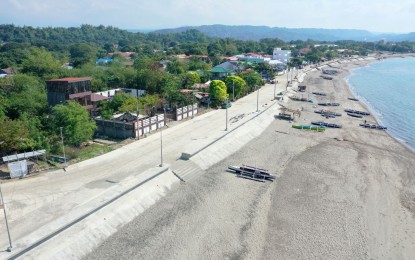 BANI, Pangasinan – The construction of a PHP91.7-million slope protection structure in Barangay Tiep here is ongoing while a seawall structure in Barangay Taboc in San Juan town, La Union has been completed, both projects aim to benefit residents and tourists.
In a statement issued on Thursday, Department of Public Works and Highways (DPWH) Ilocos Region information officer Esperanza Tinaza said the slope protection in Bani town is being built to reduce the occurrence of landslides and will ensure safety of motorists.
The ongoing project is to make the critical slope along Alaminos-Bolinao road, which leads to tourist spots in the Western Pangasinan, more stable as heavy rains and natural calamities can trigger erosio, Tinaza said.
The project construction started on March 28, 2022, and is expected to be completed in the first quarter of 2023, she said.
"It is funded under the General Appropriations Act of 2022. The project includes the construction of stone masonry, laying out of additional active wire mesh and erosion control mat," she added.
Meanwhile, the DPWH has completed the construction of a 155-linear meter seawall structure in Barangay Taboc that helps protect residents from high waves during the rainy season.
"The seawall structure is protecting the residents and their properties from possible flooding and water surge during rainy days. The seawalls are to alleviate further shoreline erosion caused by the wave impacts leading to the protection from damaging of coastal roads in the area," Tinaza said.
She said waves at San Juan can reach up to eight to 10 feet during the rainy season or with weather disturbances.
The project construction started on March 28 and was completed on Oct. 15, 2022.
The PHP29.4-million project was funded under the GAA of 2022, she said.
San Juan is one of the most popular destinations in La Union and is known as the "Surfing Capital of Northern Philippines". (PNA)