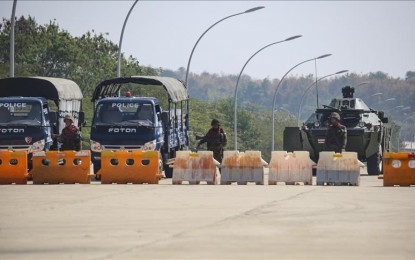 ISTANBUL – The military junta in Myanmar will release over 7,000 prisoners to mark the Southeast Asian nation's Independence Day.
A statement by the military rulers on Wednesday said it would free a total of 7,012 inmates from jails across the country for "the peace of mind of the public, being considerate of social circumstances, and in commemoration of the country's Independence Day," Myanmar Now news website reported.
However, the junta administration said it would not release those convicted on charges related to terrorism, the use of explosives, unlawful association, corruption and murder or drugs.
The Buddhist-majority nation declared independence from British rule in 1948.
Reports said many people were already released, including former religious affairs minister under National League for Democracy (NLD), Thura Aung Ko.
The Burmese military, locally known as Tatmadaw, launched a coup in Feb. 2021 which was met with widespread civic unrest. The junta repressed protests violently, despite UN warnings that the country had descended into civil war.
The UN rights office has said at least 2,316 people, including 188 children, have been killed in Myanmar since the military seized power.
Thousands of others were imprisoned, including the NLD leader Aung San Suu Kyi, who has been jailed for 33 years.
On New Year's day, the junta chief Min Aung Hlaing gave "prestigious national awards" to his predecessors besides Buddhist monk U Wirathu, who has been tagged as the "face of Buddhist terror."
Among those awarded by the military ruler included Myanmar's first post-independence dictator Gen. Ne Win and his successors Gen. Sein Lwin and Senior Gen. Saw Maung. (Anadolu)