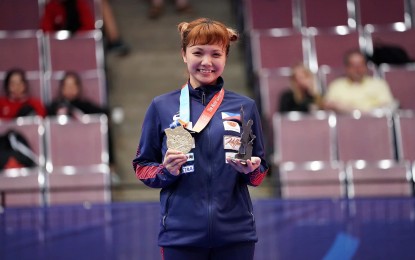 MANILA – Filipino-Japanese Karateka Junna Tsukii is keeping a positive attitude as she gears up for her tournaments this year.
First on her list is the Cairo leg of the Karate 1 - Premier League scheduled on Jan. 27 to 29 in Egypt.
"In 2022, I had only the World Games medal. But it's my biggest medal," said the world's No. 3 in the minus 50kg category in an interview Thursday.
"This year, however, I would like to place more emphasis on information warfare than last year to ensure that I can win more competitions," Tsukii said.
The 31-year old karateka bagged the team kumite bronze medal at the Vietnam SEA Games last year.
Two months after claiming that bronze medal, Tsukii captured the gold medal at the World Games in Birmingham, Alabama -- a feat that made her the second Filipino to win after Carlo Biado, who topped the men's 9-ball of billiards at the 2017 edition held in Wroclaw, Poland.
"It's nice to win a medal. Winning gives me confidence," said Tsukii. "2023 is a busy year for me. I have many tournaments so I really have to sharpen my skills and be prepared."
She also eyes four more legs in the Premier League calendar -- the Rabat (Morocco) in May, Fukuoka (Japan) in July and Dublin (Ireland) in September.
Tsukii is also set to see action at the Southeast Asia Karate Championships which will be held from March 13-19 at the Ninoy Aquino Stadium, and the SEA Games to be hosted by Cambodia from May 5-17.
The 2019 Manila SEA Games gold medalist is determined to come back strong in Cambodia after missing the podium in the individual event in Vietnam last year.
"Yes, I'll make it. I must win because I have given my time and everything to win more than anyone else," said Tsukii, who has earned two gold medals in the Premier League and one silver medal in the Continental Championships.
Other tournaments lined up for her are the Asian Karate Championships in Malaysia (July), Asian Games in China (September) and World Championships in Hungary (October).
"The goal is always to perform well, so training is very important to achieve success," said Tsukii, who trained under Olympic and world champion coach Roksanda Atanasov in Arandelovac, Serbia, to prepare for the World Games. (PNA)