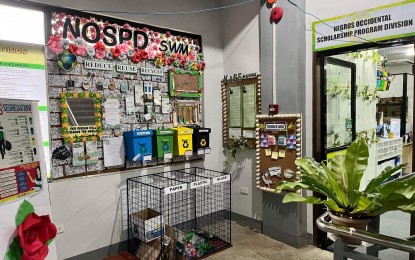 BACOLOD CITY – Going green is becoming a lifestyle in the capitol offices and provincial government-run hospitals in Negros Occidental as employees showcase their best practices in compliance with Republic Act 9003 or the Ecological Solid Waste Management (SWM) Act of 2000.
At the Negros Occidental Scholarship Program Division (NOSPD), located at the Provincial Multi-Purpose Building near the provincial capitol here, the staff has set up a waste segregation area and a materials recovery facility (MRF) to promote the advocacy on "reduce, reuse and recycle".
With its innovations, the NOSPD headed by Karen Dinsay was awarded the champion, besting 11 other finalists, in the province's just-concluded Local Search for the Best Office/Hospital Compliant with RA 9003 Year 1.
"We innovate by setting up our own MRF. It's where we put the recyclables such as boxes, and plastic and glass bottles. It's not only our office that benefits from it, but also other offices located in the building," Dinsay told the Philippine National Agency (PNA) on Thursday.
The NOSPD has partnered with NIJI Bacolod gift shop for the reuse of shredded papers as gift box stuffing and has collaborated with Barangay 4 Council in this city to receive the recyclable materials collected through the MRF for use in their SWM program.
Also, the office tapped the support of the capitol scholars to practice proper waste segregation on their own.
Dinsay said they have a corner for eco-bags which they carry when buying goods at the nearby shopping mall and return after use.
"We say no to single-use plastics. Even when we buy food, we also use recyclable plastic containers," she added.
In the SWM corner, the NOSPD has mounted a graph to monitor weekly waste collection, a feedback wall, and an information corner on the Kapitolyo Solid Waste Management Educators dubbed "KaSEmanwa".
Aside from winning the top award, with PHP50,000 cash, the NOSPD also received seven special awards.
"I really feel we truly deserve the Best in Team Effort. It is true, we worked and put our acts together as a team and when we did that, we were able to innovate, create the best SWM corner, bring out the best in our KaSEmanwa, and answer the questions correctly," Dinsay said.
Other winners included the Provincial Information Office, first runner-up; Valladolid District Hospital, second runner-up; and Provincial Assessor's Office, third runner-up, with cash prizes of PHP30,000, PHP20,000, and PHP10,000, respectively.
In a statement, Governor Eugenio Jose Lacson said the SWM programs and initiatives of the capitol offices and hospitals contribute to sustainable environmental management and conservation under the administration's Abanse Negrense Priority Development Program. (PNA)