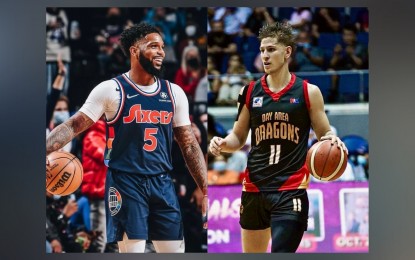 MANILA – The Philippine Basketball Association (PBA) slapped Bay Area's Myles Powell and Hayden Blankley with hefty fines for ranting on social media after Game 3 of the Commissioner's Cup Finals against Ginebra.
PBA fined Powell PHP100,000 after posting on Twitter that the referees were making the difference during the series, citing the free-throw discrepancies in all three games so far.
"Something ain't right clearly. The refs [are] making the difference between who wins or not when it should just be a fair-called game," Powell tweeted.
Then in an Instagram story, he called out the league, saying, "PBA, do better!"
Blankley, on the other hand, was meted a PHP75,000 fine for his own take on Game 3, where the Gin Kings rallied back in the final four minutes to steal the win from the Dragons.
"[I] got nothing but love for the Philippines and its people, but at this point, it's obvious. Just let it be a fair game, please. As the locals would say, it's 'cooked,'" Blankley said in his IG story.
He has since deleted the post but not without some keen fans quickly taking a screen capture of it.
Such statements were deemed detrimental to the league, thus, commissioner Willie Marcial summoned the foreign players to his office in Quezon City on Thursday.
"Nag-usap kami kanina. Nag-apologize sila. Kinausap ko. Tinanggap ko yung apology nila (We talked earlier. They apologized. I talked to them. I accepted their apology)," Marcial told the Philippine News Agency (PNA) over the phone.
Although no suspension was meted out, Powell will still not be seeing action on Friday night as Marcial also confirmed to the PNA that Bay Area has not notified him of an import change amid Andrew Nicholson's ankle injury.
According to Marcial, the guest team was given until 12 p.m. Thursday to switch back to Powell, who himself is nursing a toe tendon injury, but the team didn't do so.
With this, Nicholson would remain as Dragons' active import for Game 4 against the Gin Kings.
Meanwhile, contrary to an earlier report, Bay Area coach Brian Goorjian was not asked to present his case to the commissioner's office. (PNA)