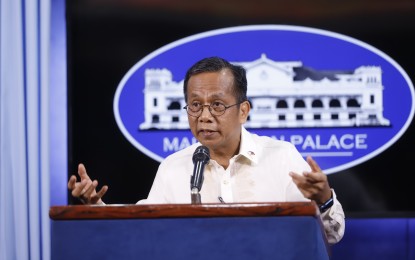 MANILA – As inflation rose in December 2022, the National Economic and Development Authority (NEDA) said the Philippine Development Plan (PDP) 2023-2028 outlines measures for the government to pursue to address faster rate of price increases.
Following the report of the Philippine Statistics Authority (PSA) that December 2022 inflation stood at 8.1 percent, NEDA Secretary Arsenio Balisacan said addressing inflation is among the top priorities of the Marcos administration.
Balisacan said this is part of the government's eight-point agenda and the medium-term plan that was launched last month.
"As part of the 8-point Socioeconomic Agenda of the Marcos administration and as laid out in the Philippine Development Plan (PDP) 2023-2028, the government will continue to prioritize addressing the impact of inflation as it remains to be a challenge not only in the country, but throughout the globe," he said in a statement.
Under the PDP 2023-2028, the government targets to improve and strengthen the country's supply chain, logistics sector and the use of technology and innovation in modernizing the agriculture sector.
"As laid out in PDP Chapter 3, the government will strengthen the establishment of strategically located facilities such as interconnected transport systems, wholesale food terminals and trading centers, and other production and postharvest facilities. Also critical will be complementary private sector investments such as warehouses, cold chains, cold storage facilities, processing facilities, and digital marketing channels, among others," Balisacan said.
He added it is necessary to modernize the country's agriculture and agribusiness to increase productivity and ensure stable supply of food locally.
Amid the frequent weather disturbances that the country experienced, there is also a need to upgrade and streamline the disaster response and rehabilitation mechanisms.
This will include the use of technology in predicting supply chain disruptions; adoption of site-specific, timely and simplified climate outlook and weather forecasts; improvement of biosecurity measures and accelerating the development of vaccines to control livestock and poultry diseases.
Balisacan also lauded the decision of President Ferdinand R. Marcos Jr. to extend Executive Order No. 10 that extends the reduction of import duties on various agriculture products such as pork, rice, corn and coal until December 2023. (PNA)