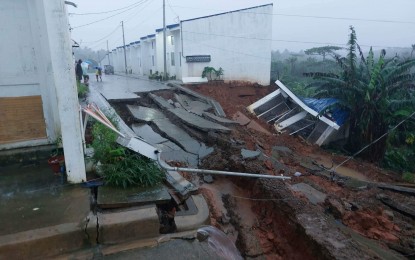 TACLOBAN CITY – The local government of Salcedo, Eastern Samar has moved 45 families to safer grounds following a recent landslide that hit a portion of a resettlement site built for typhoon victims.
The 45 families or 205 individuals were transferred by the local government to unoccupied units of Salcedo Ville while others opted to stay with their relatives in nearby villages, said Mayor Ma. Rochelle Mergal in a phone interview Friday.
After the landslide on Jan. 4 that damaged the housing project's 50-meter access road and materials recovery facility, the local government has identified at least 37 units as vulnerable to erosions.
Salcedo Ville is a resettlement site in Tagbacan village built by a private firm meant for families living in areas prone to big waves.
"The weather has improved today, but we advised the 45 families to remain in safer places. We will continue to assist affected families," Mergal added.
On Thursday, Eastern Samar Governor Ben Evardone visited the resettlement site to check the incident and affected residents.
Evardone asked the housing contractor and the private firm to help in the rehabilitation activities.
Meanwhile, Siha village in Borongan City was again hit by flooding on Jan. 5 which was also inundated on Christmas Day.
Public school teacher Randel Algo said flooding is a recurring problem in their community during rainy days.
Siha village is considered a catch basin of waters coming from the upland villages of San Gabriel, San Jose, and Suhi before draining to Lo-om River, according to Algo.
"It takes two to three days before flood water subsides. Some residents must cross the bridge with overflowing water to get to the other side of the village," he added.
Siha residents have been requesting to replace the existing bridge with a taller and sturdier structure since flooding prevents villagers from going to the city's center every time there is a heavy downpour.
The access road to Siha village was also closed for several hours on Jan. 5 due to a landslide. (PNA)