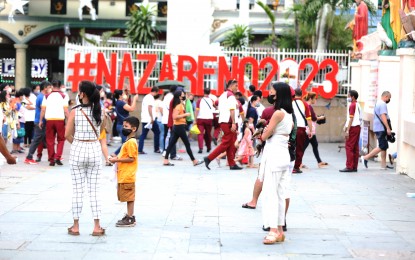 MANILA – Organizers of the activities for the Feast of the Black Nazarene on Friday reminded devotees to observe health protocols as the threat of the coronavirus disease 2019 (Covid-19) persists.
In a press briefing, Alex Irasga, adviser of Quiapo Church, reminded the people that kissing the image of the Black Nazarene is prohibited during the "pagpupugay" (viewing or touching) at the Quirino Grandstand in Manila which starts on Saturday.
"Kissing of the image is not allowed, but they can touch the image or wipe it with their towel or handkerchief," he said.
The church official said there will be personnel near the image to ensure that no one will kiss the image of the Black Nazarene during the entire event.
The "pagpupugay" will start at 1 a.m. of Jan. 7 until the feast day on Jan. 9.
There will be three lanes, separating males, females and persons with disabilities, senior citizens and pregnant women.
"The devotees will queue with physical distancing, and will disinfect before and after touching the image of the Black Nazarene," he said.
The life-size image is on the stage at the center of the Quirino Grandstand.
Irasga added that the entrance for the "pagpupugay" will be at South Drive (left side facing the venue) while the exit is at Katigbak Drive.
There are also first aid teams and medical stations at the venue to respond to emergencies.
6K cops to secure feast
Meanwhile, the National Capital Region Police Office (NCRPO) said close to 6,000 police officers would be deployed to secure the annual religious event.
In a statement, NCRPO chief, Maj. Gen. Jonnel Estomo, said a total of 5,559 cops will be deployed at Quiapo Church, Quirino Grandstand, and law enforcement checkpoints while 175 personnel from Bureau of Fire and Protection (BFP)-NCR and Joint Task Force (JTF)-NCR will also be deployed as support units.
Estomo said no vendors are allowed within the vicinity of the Quiapo Church while churchgoers are not allowed to bring backpacks and colored canisters. Only transparent plastic bags and water bottles would be allowed.
The airspace in the vicinity of Quirino Grandstand and Quiapo Church would also be declared as a "no fly zone" from Friday noon until noon of Jan. 10, while all the ports and waterways near these areas will be secured as well.
A traffic rerouting scheme will also be enforced starting at 10 p.m. on Friday, which can be accessed on the official Facebook page of the Manila Public Information Office.
Estomo said all permits to carry firearms outside of residence (PTCFOR) are also suspended in Manila beginning 12:01 a.m. of Jan. 5 to 12:01 a.m. of Jan. 10.
Only the members of the PNP, Armed Forces of the Philippines, and other law enforcement agencies who are performing official duties and will be allowed to carry firearms.
The Manila City government will also impose a liquor ban from Jan. 7 to Jan. 9.
Aside from the "pagpupugay", Eucharistic celebrations will be held at the Grandstand on midnight of Jan. 8 and 9, to be presided by Fr. Rufino Sescon, rector of Quiapo Church, and Manila Archbishop Cardinal Jose Advincula, respectively. (PNA)