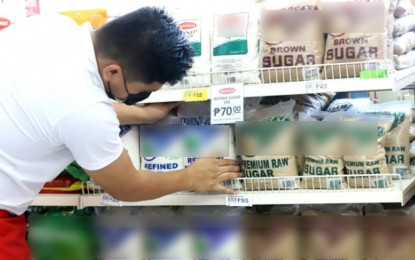 MANILA – Justice and fairness prevailed in the dismissal of the administrative complaints against the four signatories of the controversial order to import 300,000 metric tons of sugar last year, according to Senate Deputy Minority Leader Risa Hontiveros on Friday.
After the Senate Blue Ribbon Committee recommended the filing of charges against former Sugar Regulatory Administration (SRA) chief Hermenegildo Serafica and three others, Hontiveros and Senate Majority Leader Aquilino Pimentel III released their own findings that the decision was unjust and baseless.
"I had no doubt that the truth would come out, as it always does," she said in a statement. "Ginagawa lamang ang kanilang trabaho bilang (They were just doing their jobs as) public servants. Clearly, their acts bore badges of good faith that warranted their absolution from any liability."
In the 10-page decision approved by Executive Secretary Lucas Bersamin on Dec. 29, 2022 and released Thursday, the Office of the President (OP) absolved Agriculture Undersecretary Leocadio Sebastian, Serafica, and former SRA board members Roland Beltran and Aurelio Gerardo Valderrama Jr. – who all gave up their posts -- of liabilities regarding their approval of Sugar Order No. 4 in August last year.
The order was done in "good faith absent any showing that the respondents were aware of their lack of authority," according to the OP decision.
Senator Francis Tolentino said the OP's decision will not affect the report of the Blue Ribbon Committee.

"An internal motu proprio administrative investigation report made by a separate branch of the government is different from a Blue Ribbon Committee Report, made pursuant to the rules of a co-equal branch of the government," Tolentino, the committee chair, explained in his statement.
Based on previous Supreme Court rulings, he said the dismissal of an administrative case does not necessarily bar the filing of a criminal prosecution for the same or similar acts which were the subject of the administrative complaint.
He said investigations done by the OP, Senate or Ombudsman are independent of each other.
"Neither would the result in any, terminate or conclude the other(s) and criminal liability is only totally extinguished under Article 89 of the Revised Penal Code, which does not include dismissal of an administrative case," he said.

The Senate Blue Ribbon Committee concluded that the preliminary evidence on record indicated that the SRA officials committed the administrative offense of serious dishonesty, grave misconduct, gross neglect of duty, conduct prejudicial to the best interest of the service, and gross insubordination under the revised rules on administrative cases in the civil service. (PNA)