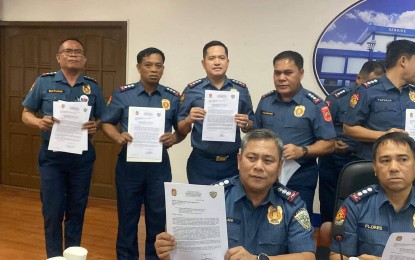 DUMAGUETE CITY – At least eight police chiefs and unit commanders in Negros Oriental were reassigned Friday, hours before top officials of the Philippine National Police (PNP)-Central Visayas tendered their courtesy resignation.
Negros Oriental Provincial police chief Col. Reynaldo Lizardo ordered the transfer of Lt. Col. Richard Gadingan, chief of the Police Community Affairs Development Unit (PCADU) of Negros Oriental Police Provincial Office (NOPPO), as Tanjay City chief of police. He replaced Lt. Col. Ronoel Fungo, who was assigned as the new head of the Dumaguete police.
Fungo replaced Lt. Col. Joeson Parallag, who will now head the PCADU.
Meanwhile, Maj. Fortunato Villafuerte was relieved from his post as Bacong town police chief and was assigned as acting police chief of Ayungon. From NOPPO, Maj. Antonio Jabar was assigned as the new chief Bacong police chief and assistant PCADU chief.
Capt. Rafael Serion was named as acting Basay police chief while Lt. Jito Buloron was moved from the Dumaguete police station and assigned as acting police chief of Vallehermoso.
Their reassignment came hours before Brig. General Jerry Bearis, director of the Police Regional Office 7 (PRO-7), led top-ranking officials in Central Visayas to sign their courtesy resignation during a simple ceremony.
Bearis and the other officials tendered their resignation following the call made by Department of the Interior and Local Government (DILG) Secretary Benhur Abalos for PNP officials holding the rank of full colonel and generals to submit courtesy resignation to pave the way for the "cleansing" of the police organization.
Lizardo, who also tendered his resignation, said in an interview with the Philippine News Agency there is nothing to be alarmed about when Abalos sought their resignation, especially if a police official has not done anything wrong.
He explained though that the recent movement is just part of the organization's continued efforts to improve the police force, particularly in the area of investigation and other official functions.
Those who were reshuffled declined to comment when contacted by the local media. (PNA)