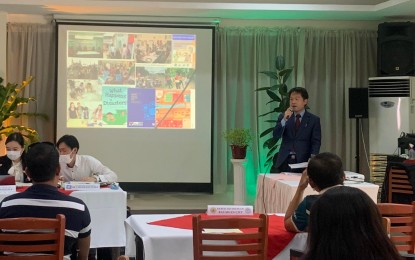 MANILA – The Japanese government continues to support the Philippines in mainstreaming disaster risk reduction among students and teachers
The Japan International Cooperation Agency (JICA) on Friday held a talk in Cebu City, in partnership with the Department of Education (DepEd) in Central Visayas, to help improve the resiliency of schools.
JICA senior representative Yanagiuchi Masanari emphasized the importance of bridging disaster-resilient infrastructure and behavior change through education.
The talk builts on JICA's completed Support Project on the Promotion of School Disaster Risk Reduction and Management (SDRRM), which was piloted in 10 schools across the province from 2017 to 2020.
The program aimed to enhance schools' management capacity to lessen the impacts of disasters in cooperation with the Japanese non-profit group SEEDS Asia and Hyogo Prefectural Board of Education (Hyogo BoE), which has over 20 years of experience in SDRRM.
Among the program results was the establishment of a regular safety inspection and a disaster response system in pilot schools, which was coordinated with local governments and villages.
A group of educators from the province was also trained in DRR in Kobe City at the Hyoro Prefecture.
A few months after Super Typhoon Yolanda (Haiyan) battered the Philippines in November 2013 , majority of school heads in northern Cebu said they conduct only earthquake and fire drills, which are not on a regular basis.
The need to establish a comprehensive disaster risk reduction education (DRRE) in schools prompted SEEDS Asia, JICA, Hyogo BoE, and DepEd to launch an initial project to "nurture the abilities of children to deal with disasters."
The DRRE program was completed in March 2017 and succeeded by the 2017-2020 JICA SDRRM project.
JICA said a "new cooperation project" on strengthening and promoting school disaster risk reduction would cover the Central Visayas until 2025.
Japan is known for its advanced systems in disaster risk reduction, with frameworks and policies in place supporting disaster management.
During the magnitude 6.9 Kobe earthquake in 1995, schools became evacuation areas, encouraging the Hyogo BoE to create DRR system in schools.
Data showed more than 6,000 died, over 30,000 were injured, fires followed that incinerated the equivalent of 70 United States city blocks, over 150,000 buildings were destryoed and about 300,000 people lost their homes. (PNA)